From 9 to 13 May 2023, Liverpool will host one of the world's most anticipated music events — the Eurovision Song Contest.
And to maximise the region's exposure, the city has launched a varied Eurovision-themed event programme and destination marketing efforts.
This leads to an interesting question. How will Eurovision impact Liverpool's economy and tourism?
To answer this question, The Data Appeal Company, together with our longtime partner PredictHQ, analysed the trends taking place in the city from 1 to 15 May — to measure the effects such a massive event can have on a destination marketing strategies, and more.
Some of the factors that came into play when carrying out our analysis were:
How many people will arrive in Liverpool to attend Eurovision and other related events?
How much are tourists willing to spend to stay and eat in the city?
How will the event impact Liverpool's reputation among travellers?
Eurovision 2023: An edition influenced by the energy crisis and war
This year's Eurovision is sure to go down in history for more than one reason — especially given the political and economic context it is placed in.
Perhaps the most glaring evidence of current events is the number of participating countries and the choice of this year's host country.
Unfortunately, the global energy crisis and consequent economic turbulence have led Bulgaria, Montenegro and North Macedonia to withdraw their participation this year — for the first time in their history — due to financial difficulties.
The ongoing political instability means that despite placing first last year with the Kalush Orchestra singing "Stefania", Ukraine won't be hosting the 2023 event because of security concerns due to the Russian-Ukrainian conflict.
This will be one of the few exceptions in the festival's history, as traditionally, Eurovision winners host the following year's event.
Instead, the 2023 contest will be held in the United Kingdom — which ranked second last year with Sam Rider's Space Man. More specifically, the Host City will be Liverpool, following a selection process from a shortlist of British cities that included ​​Birmingham, Leeds, Manchester, Newcastle, Sheffield and Glasgow — all of which were vying to host this year's edition on behalf of Ukraine.
Being home to famed musicians such as The Beatles and recognised as a UNESCO Music City, Liverpool needs no introduction among music aficionados!
Taking place in the Liverpool Arena next to the River Mersey on Saturday, 13 May, with Semi-Finals on Tuesday, 9 and Thursday, 11 May, the contest is set to write yet another remarkable page on Liverpool's musical history.
Despite the uphill start, anticipation for this year's contest is ongoing as Eurovision fans worldwide gear up for this special 67th edition.
Starting with just seven competing countries in 1956, the Eurovision Song Contest gradually won the hearts of many Europeans. It has expanded its fanbase to people from around the globe, with almost 40 countries participating yearly and more than 160 million viewers last year alone.
How many visitors are expected in Liverpool during the Eurovision Song Contest?
The first step to understanding its impact on the tourism industry, and turning the event into a destination marketing asset, was to measure the number of people expected.
This year's venue, the Liverpool Arena, is an 11,000-seat indoor stadium within the ACC Liverpool complex, hosting concerts and sporting events.
Our partner PredictHQ, one of the best-known international event analysis organisations, predicts that both the two semi-finals and the final will sell out. Here's the expected attendance predictions:
Eurovision Song Contest Semi-Final 1 – Afternoon Preview: 1,350 expected attendance
Eurovision Song Contest 2023 Semi-final 1: 11,000 expected attendance
Eurovision Song Contest 2023 Semi-final 2: 11,000 attendees expected
Eurovision Song Contest Grand Final – Afternoon Preview: 1,350 attendees expected
Eurovision Song Contest 2023 Grand Final: 11,000 expected attendance
The estimated overall spending on the day of the final alone (13 May), calculated using PredictHQ's proprietary data, enriched by local economic indicators and partner data, will be approximately $914,467.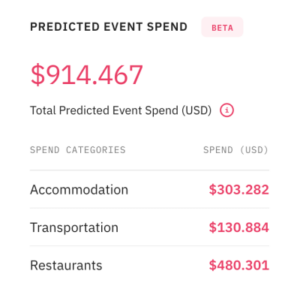 However, the Eurovision final and semi-finals aren't the only events Eurovision fans will attend in Liverpool.
As of 1 May, this year's EuroFestival kicks off, running until 14 May, and will offer a variety of cultural events, such as concerts, exhibitions, and shows, including collaborations between UK and Ukrainian artists.
Plus, according to PredictHQ, over 25,000 people are expected at the Eurovillage — the Eurovision official fan zone — throughout the contest period.
And, we should not underestimate the fact that during the same period, Liverpool will also host some of the most-watched Premier League matches ever:
Liverpool vs Fulham, with 44,491 people expected (3 May)
Liverpool vs Brentford, with 49,484 people expected (6 May)
Rates and bookings soar for the Final night
Undoubtedly, the concert will attract visitors to Liverpool, its surrounding region, and the North Wales area. The BBC reports that the organisers expect a £30 million impact on the local economy.
As soon as the host city was announced, hotel prices spiked from £450 to £8,000 per night.
This led many visitors to stay in neighbouring regions where prices didn't increase as much, boosting tourism throughout the north of the UK.
To understand how rates and occupancy will vary in Liverpool, we looked at the market trends with Data Appeal Studio, the first all-in-one destination marketing and management platform.
In the first half of May, the occupancy curve recorded on Online Travel Agencies (OTAs) rose sharply leading up to the 13 May finale, with average rates reaching €354 per night for a double room. It is likely that with the event approaching, accommodation facilities will be fully booked, both during the week and at the weekend.
OTA saturation and average hotel prices vary considerably depending on the area of the city: among the most expensive are Kensington and Fairfield, where they exceed a whopping €1,000 per night.
Bookings and average rates already start to increase on 5 May, perhaps due to the many concerts and events preceding the Eurovision Song Contest and Premiere League matches.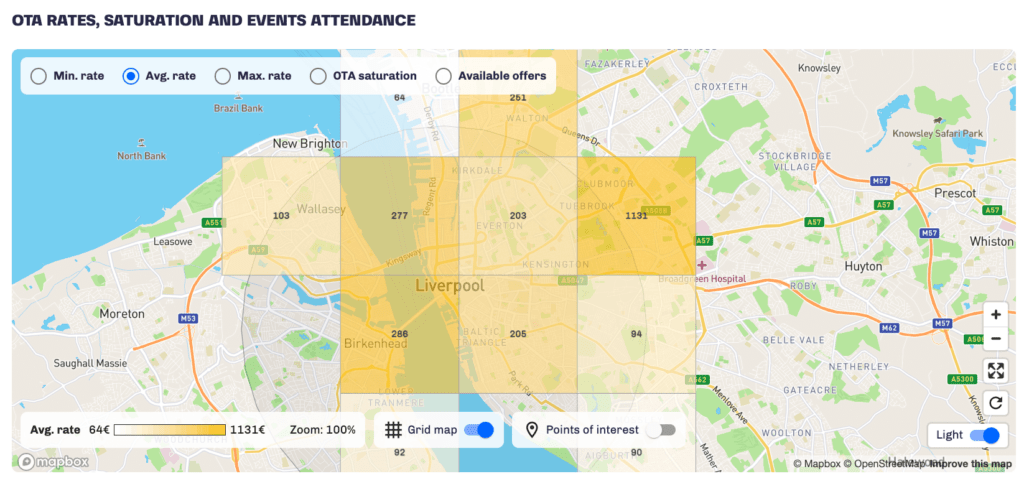 Over the week of 7-15 May, the average occupancy level is already at 53.1%, with an average rate of €288 and a maximum of €497.
The most popular accommodations on the major OTAs are hotels, with a lower average minimum, average and maximum rate compared to privately owned accommodations.

Travellers prefer 4-star hotels and are willing to spend over €200 per night
To better understand traveller habits and spending power during Eurovision, we analysed a range of hotels in the city centre. Our analysis is based on the total volume of content collected from over 130 review and social channels.
The top hotels among visitors are 4-star with double room average rates above €214:
The Resident Liverpool 4 stars: Sentiment Score 92.1/100 – average rate €214
Pullman Hotel Liverpool 4 stars: Sentiment Score 89.7/100 – average rate €296
Titanic Hotel Liverpool 4 stars: Sentiment Score 89.6/100 – average rate €309
Hope Street Hotel 4 stars: Sentiment Score 88.4/100 – average rate €249
Among the most popular restaurants are international restaurants
Among the local favourites, in terms of volume of reviews and Sentiment Score, are international restaurants, mainly the two venues of the Caribbean restaurant Turtle Bay, and Sanskruti, which serves Indian and vegetarian cuisine.
Dale Street Kitchen: Sentiment Score 97.2/100
Turtle Bay Liverpool Victoria St: Sentiment Score 97.0/100
Turtle Bay Liverpool Hanover St: Sentiment Score 95.8/100
Sanskruti Restaurant: Sentiment Score 95.2/100
Perception of Liverpool: Well-loved and welcoming
The Eurovision Song Contest will be an excellent opportunity to showcase the British city and eventually give authorities insight into whether the event positively impacted Liverpool's reputation and image among travellers.
Data Appeal's proprietary indices allow us to analyse the reputation of the current destination from different perspectives. Currently, all indices tell us that Liverpool is appreciated from every point of view:
The Sentiment Score, which reflects users' overall opinion of all activities in the place (hotels, restaurants, attractions, etc.), is extremely positive and has been at 85.3/100 for the last six months — a substantial increase when compared to the same period the previous year.
The Travel Barometer, which measures the wellbeing of the entire tourism industry, is extremely high at 96.5/100.
The LGBTQ+ Index, the new index that analyses how open and hospitable a destination is to gender diversity, scores a very good 80.43/100, indicating that all types of tourists feel welcome in Liverpool.

Measuring the impact events have on destination marketing: What are the benefits?
The analysis we conducted on the Eurovision Song Contest is just one example of the valuable data and information that tourist destinations can collect to understand the impact that events, concerts and fairs have on their destination and to make better decisions.
This data can be applied to innumerable uses and bring benefits for improving traveller experience and optimising destination marketing investments.
With this type of analysis, destinations can improve their decision-making process by:
Anticipating visitor influx to better prepare for their arrival: Knowing in advance how many people are expected and in which areas they are staying allows local authorities to set up adequate security systems, boost visitor services, information points, street cleaning and means of transport. This will ensure an excellent experience for all and will have a long-term impact on the destination's reputation.
Avoiding inconvenience to the local population: with this information implementing strategies to shield locals from any inconveniences caused by the temporary influx of tourists in the city will be much easier.
Upselling and exceeding expectations: at major events, you don't necessarily need to encourage arrivals — you can offer something extra to those who have already decided to visit. Understanding tourists' preferences, spending power, and origin will help you promote side events, exhibitions, tours or gastronomic experiences alongside the main event. All this will increase business for operators in the area.
Optimise marketing campaigns: having a snapshot of behaviours and needs for which travellers reach your destination at hand can support your marketing team in creating more engaging content: blog posts, social posts, videos and podcasts that genuinely reflect their profile.
Location Intelligence and outdoor advertising: this data can also be useful when analysing location intelligence for advertising purposes, e.g. to identify where people are most likely to stop to watch the event on TV. Similarly, you can use this data to find the most frequented areas at the event, where you can place out-of-home advertising to reach your desired target group more easily, and to launch new products or services.
Events are a great way to increase the visibility of your destination — particularly if they're well prepared for and managed. They can help generate new jobs, boost profits for all stakeholders and expand business opportunities throughout the year, not just during traditional peak tourist periods.
Working in the world of destination marketing and management?
Explore the power of Data Appeal Studio, the only all-in-one destination analysis platform.