Tourist flows in Europe have clearly picked up throughout the first half of 2023, compared to 2019.
The allure of Mediterranean countries remains stronger than ever, with foreign visitors, especially Europeans and Americans, heading to these destinations this summer.
The CNN reports that there hasn't been such an influx of Americans to Europe since 1970. According to Allianz Partners, 55% more Americans will travel to Europe this summer than in 2022, when there was already a 600% increase over 2021.
Similarly, according to ETC, international arrivals have shot up to 95% of 2019 levels. While in one of every four EU countries, international tourists have surpassed pre-pandemic levels, despite the current economic turmoil.
However, as we all know by now, as tourist flows increase, so do the inconveniences they bring along with them. Queues form up more easily, prices skyrocket, and transportation systems face bottlenecks across various modes of travel.
All these disruptions and many others can potentially affect the experience visitors have in a given destination.
So, to assess how overtourism impacts visitor satisfaction, we analysed sentiment trends between June and July 2023 in some of the most iconic Mediterranean destinations: Spain, Portugal, Greece, and Italy.
What changed compared to last year? Which places have the highest sentiment, and where do the tourists who highly praise these destinations come from?
Sentiment soars across all destinations, with Greece taking the lead
During the first half of the summer, the Mediterranean destinations we analysed all experienced a positive sentiment — showing a slight increase when compared to last year.
Among the four destinations, Greece recorded the highest Sentiment Score, 89.3/100, surpassing the others by a significant margin.
The Sentiment Score is a synthetic proprietary index developed by Data Appeal, and gauges the level of satisfaction expressed by users across 130 online sites and portals.
Italy comes in second with a Sentiment Score of 87/100, while Portugal and Spain place third and fourth, with a score of 86.4/100 and 85.5/100 respectively.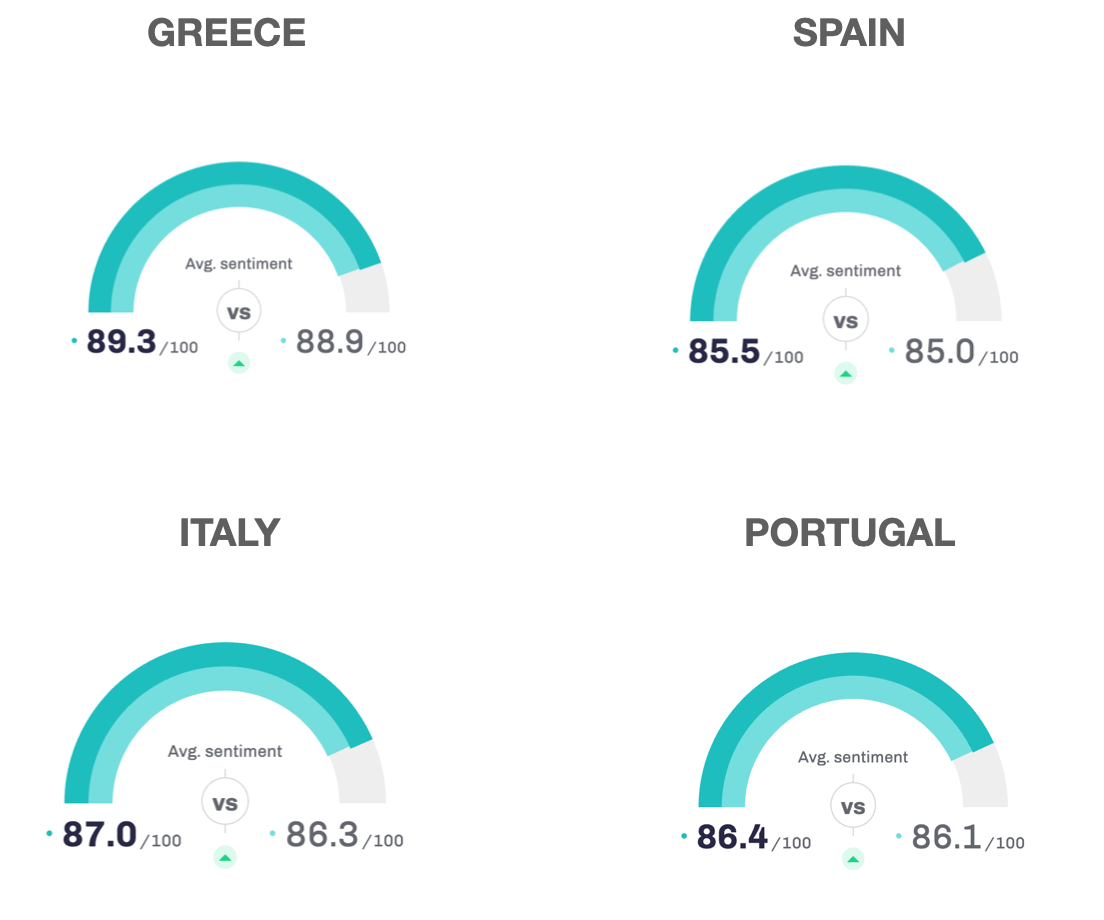 (Sentiment Score analysis from 1 June to 15 July 2023 vs. 2002; source: D / AI Destinations)
Analysing review engagement: Domestic tourists vs. foreign tourists
When compared to the same period in 2022, Greece is the only country we analysed in which we saw a slight increase in the volume of online comments and reviews on hotels, restaurants and attractions between June and July 2023.
Italy's volume of online comments and reviews remained unchanged, while Spain and Portugal experienced a decline. This can be attributed to the anticipated peak attendance in all three countries during August.
Additionally, there appears to be a distinction in the quantity of content produced by domestic tourists compared to foreign visitors, as certain nationalities tend to share their opinions and experiences more frequently than others.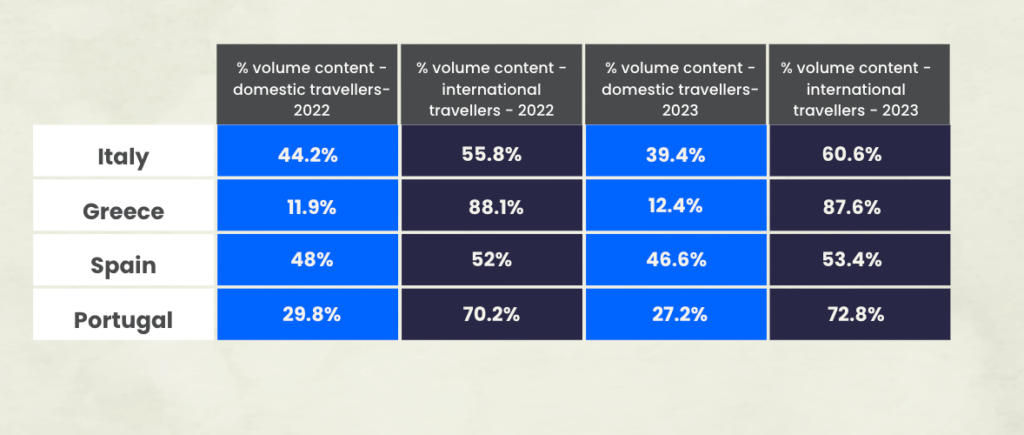 ITALY
Data Appeal recorded a sharp increase in international visitor reviews this year, rising from 55.8% to 60.6% of the total.
American visitors are back among the top four among tourists who wrote the most content, after having been in seventh place in 2022. The main source markets remain stable, with Germany, France and the United Kingdom in the lead.
Italian reviews have plummeted, which comes as no surprise. Due to the high cost of domestic flights and hotels, many Italians have opted for other affordable destinations abroad.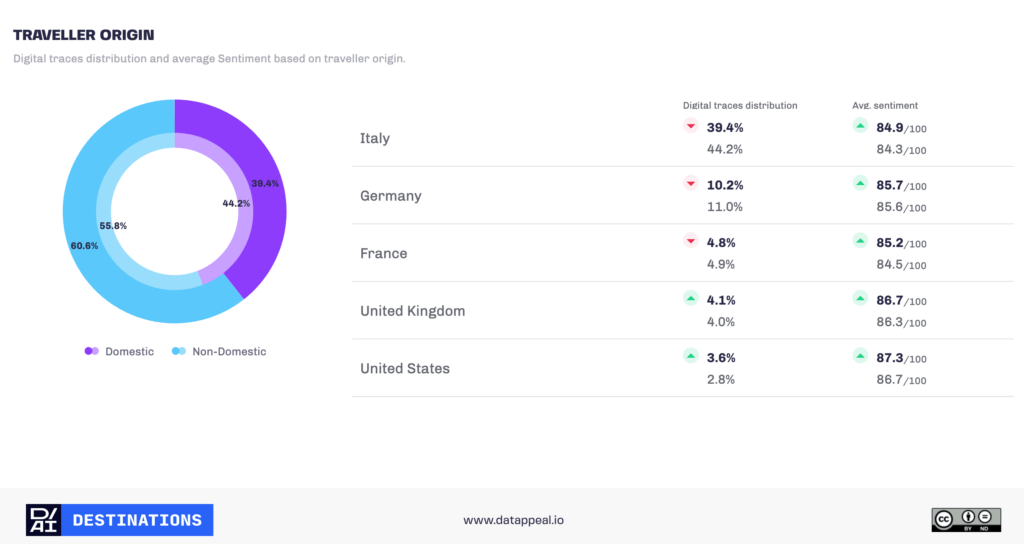 SPAIN
Domestic tourists are the authors of almost 50% of digital trails in Spain, while the main foreign markets remain unchanged from those in 2022: the United Kingdom, France, Germany and Italy.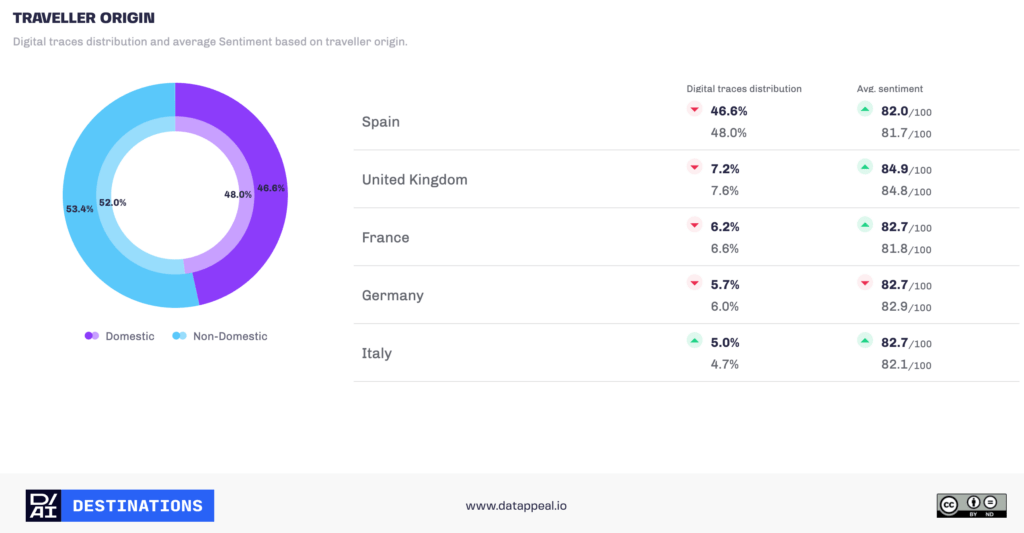 PORTUGAL
More than 70% of the digital trails in Portugal were contributed by international travellers, with Spaniards, Germans, French, and British ranking as the top four foreign visitors.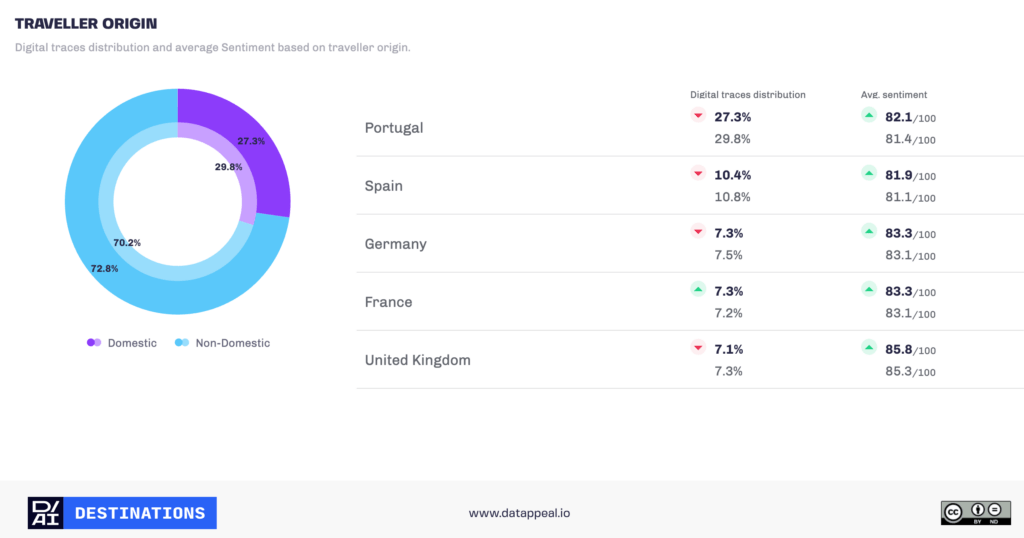 GREECE
In Greece, the lion's share of comments were left by international tourists (87%), which is a slight decline when compared to 2022.
Content from Europeans slightly decreased, while content posted by international travellers such as the USA, Australia, and Israel increased.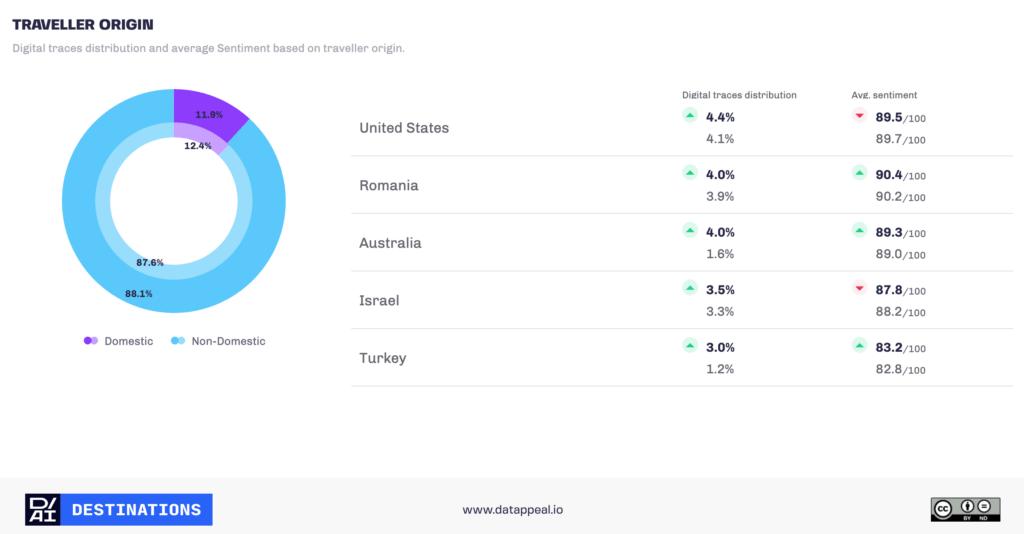 Want to know more about international tourism trends?
Subscribe to our newsletter and receive a monthly digest featuring our most relevant data.