Piemonte Destination has created an innovative work dashboard to foster destination growth through a comprehensive analysis and utilisation of data, including both historical and ongoing trends.
Cristina Bergonzo, Head of Market Research & Data Analytics at Visit Piemonte, presented the data used by the region and illustrated three practical scenarios in which Piemonte has effectively leveraged data to:
Enhance visitor profiling in the Limone Piemonte and Vernante region
Improve the cycling tourism experience on the Alta Via del Sale
Evaluate the performance of the International White Truffle Fair in Alba in comparison to other competitive regions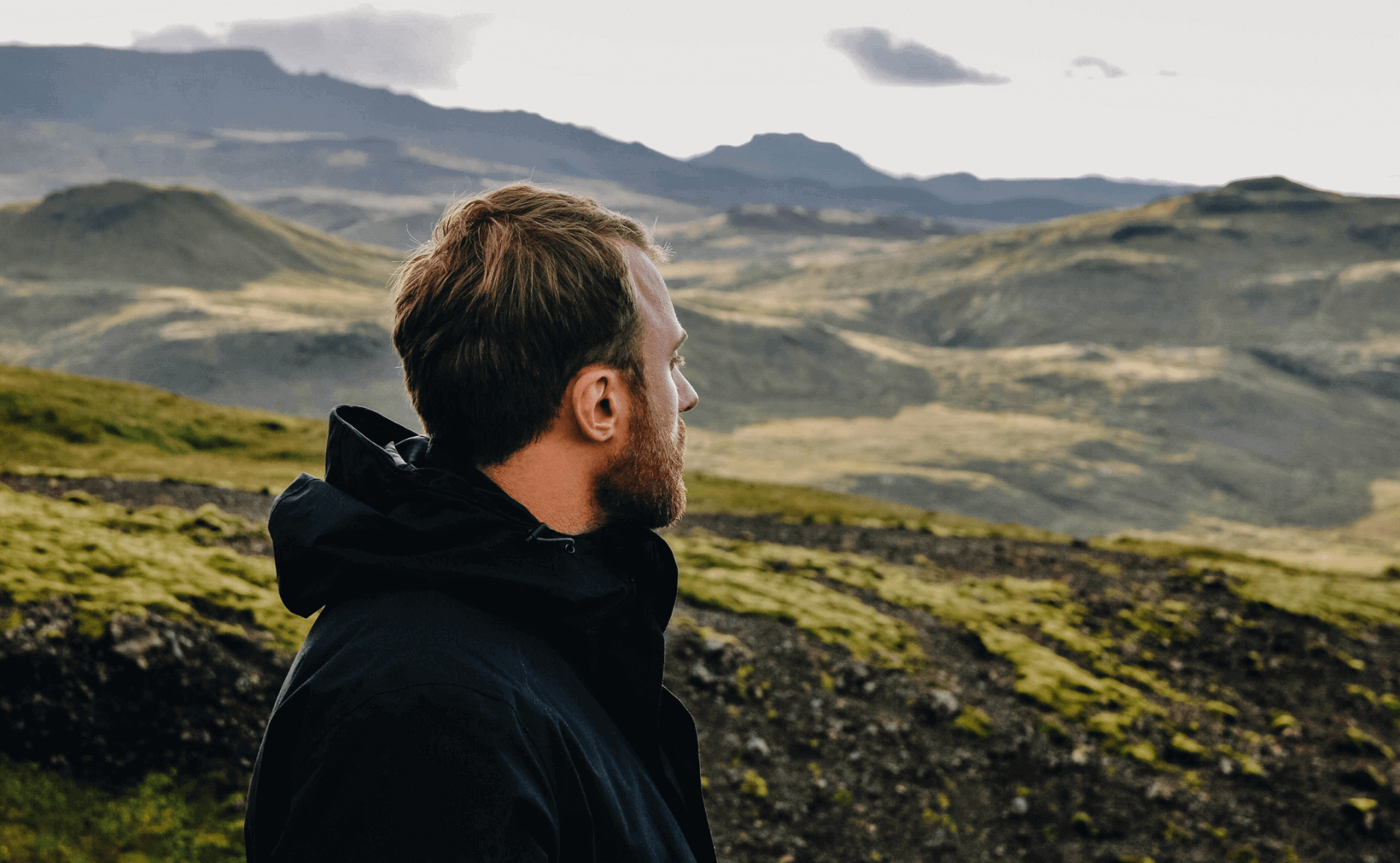 The key elements for a precise analysis of historical data and trends: Sentiment data, statistical figures, spending insights, and mobile phone usage patterns
For years, Piemonte has embraced a data-driven tourism culture, where the management of the sector heavily relies on evidence provided by historical and predictive data.
Strategic decisions, structural, organisational, logistical, and promotional investments are guided by insights gathered through the analysis and comparison of an extensive dataset, which is integrated into the Tourism Observatory of the Piemonte Region.
The Observatory serves as the Piemonte Region's tool for analysing the tourism sector's offerings, trends, and market developments. It also acts as a monitoring system for tourism promotion, information, and hospitality activities in Piemonte.
The Observatory dashboard encompasses various data types, including:
First-party data collected through traditional methods such as statistical figures and surveys.
Third-party data, which encompasses spending, mobile telecommunications, sentiment, reviews, as well as occupancy rates and pricing data from online travel portals (OTAs), all sourced from Data Appeal's destination management platform, D/AI Destinations.
The destination's objectives are multifaceted:
Support for regional planning
Market analysis and monitoring
Evaluation of development actions and promotional initiatives.
Dissemination of results through news, website sections, speeches at conferences and seminars, events, press conferences, and specific data analysis requests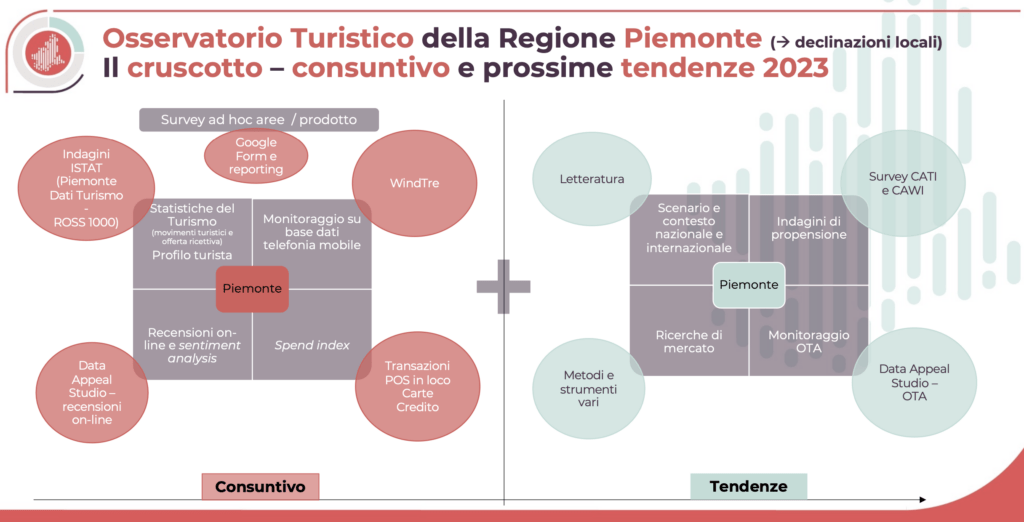 (Slide presentate durante l'Osservatorio Travel Innovation 2023 di PoliMI)
Harnessing data to understand visitors and their patterns
The platform created for the Observatory helps analyse and combine data related to arrivals, stays, age groups, and accommodation choices.
The temporal trends enable year-to-year, seasonal, and even daily comparisons.
This provides the opportunity to observe both financial developments and how the territory is experienced throughout different months, highlighting how behaviours change with the seasons.
Real-time reviews as a trustworthy predictor of visitor trends and satisfaction
Piemonte augments traditional statistical data with continuous sentiment and content volume analysis from Data Appeal. This strategic choice enables the destination to anticipate visitor numbers with a high degree of confidence.
"Sentiment analysis and content volume trends offer early indications," Bergonzo explains. "Our review monitoring in the lodging sector enables us to track the week-by-week performance of our stays. Additionally, we can make satisfaction comparisons with Italy and other identified destinations.
Alongside reviews, we also incorporate spending indicators, categorised by key areas that are central and economically significant for Piemonte. These indicators help us understand spending behaviour over time in two crucial sectors: hospitality and dining."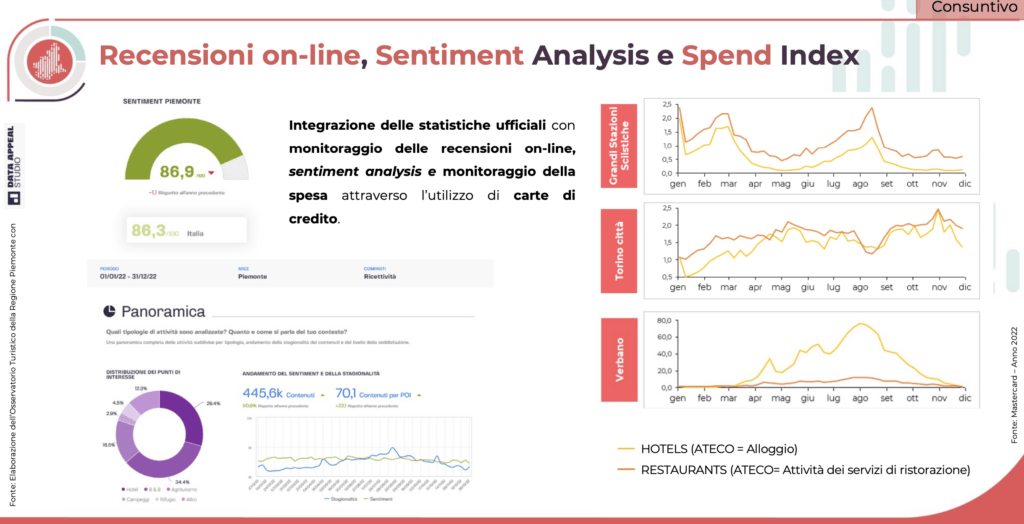 Using OTA data for a double-check on presence figures
To consistently monitor territorial presence, Piemonte relies on OTA analysis, facilitated through the D / AI Destinations platform.
Using this method, Piemonte can keep track of the total rooms sold in comparison to available rooms on these online channels. This enables the destination to understand how offerings are distributed and diversified across product areas such as Turin, and the lakes, mountains, and hills within the region.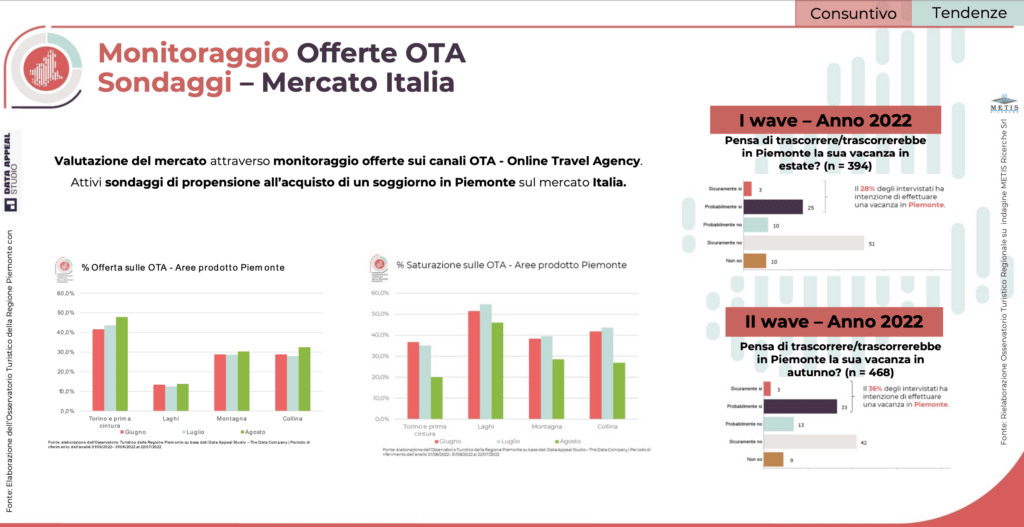 With this data, it becomes possible to assess the level of room capacity saturation across the region and identify the primary marketing channels specific to different regions.
"The D/AI Destinations dashboard offers both retrospective and trend-based insights," says Cristina Bergonzo.
"It reveals that the lakes area primarily promotes its offerings through alternative channels, resulting in a relatively lower presence on Online Travel Agencies. In contrast, the Torino outer ring stands out as the most visible region on these platforms.
For the mountain and hill regions, the distribution fluctuates based on the season, ranging from approximately 30% to as much as 55%."
We understand that in particular regions and during specific events, predictions can fluctuate due to the use of OTAs as both distribution channels and showcases. As a result, products may be added or removed based on the operator's business strategy.
With that in mind, this tool aids us in tracking monthly saturation and historical offerings. Simultaneously, it provides an early look at what's unfolding in the coming months and the following season."
Diverse Regions, dedicated observatories: Langhe Monferrato Roero, Biellese, and Cuneese
Piedmont is a region with an exceptionally diverse range of tourism options.
Each area has its unique characteristics and purpose, catering to different types of visitors with varying needs.
To address this diversity, Piedmont has established three new local observatories dedicated to specific regions, each with its own customised dashboard.
These observatories are:
Langhe Monferrato Roero Observatory, which has completed its third year.
Biellese Observatory, launched in May 2022.
Cuneese Observatory, also initiated in May 2022.
As described by Bergonzo, the initial Langhe Monferrato Roero Observatory served as a model for this initiative. In that case, local stakeholders expressed the need for region-specific Key Performance Indicators (KPIs).
For example, the International White Truffle Fair in Alba wanted to monitor the real impact of the fair, both in terms of tourism and the local economy.
This model has been used as a blueprint for the Biellese area, which, despite its small size, holds significant potential. The ambitious goal there is to double overnight stays within 3-5 years.
To achieve this, local operators are implementing data-driven initiatives, with data analysis helping identify the most effective strategies that can be replicated.
In contrast, Cuneese is a region known for its outdoor attractions, with a variety of valleys and mountains, each with its unique character.
Here, the focus is on outdoor and cycling tourism to explore and understand the region's development opportunities.
Transforming data into action: 3 real-life case studies
The use of data in improving the analysis and performance of the Piemonte region is demonstrated through three real case studies involving The Observers, the strategic dashboard, and data collection.
These case studies reveal how data is applied in practice to support operators and enhance the visitor experience.
CASE STUDY #1
Tourism Observatory of Cuneo
Optimising Visitor Profiling in Limone Piemonte, and Vernante
Official statistics on the territory of Limone and Vernante, regarding the origin of visitors, ranked "other European countries" in third place, but it was not possible to determine who these visitors were.
Thanks to a comparison with data available on reviews and origins provided by D/AI Destinations, the destination was able to clarify which countries were included in this category. In this case, it was visitors from Monaco.
"Pairing the official data with the platform's data allowed us to clarify the target audience. This demonstrates how the two tools complement each other and enhance the accuracy of information interpretation."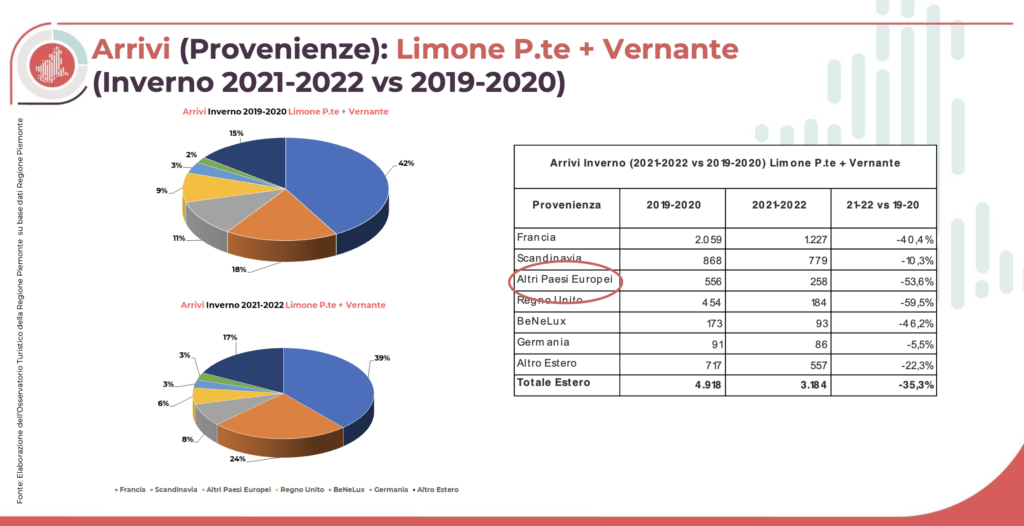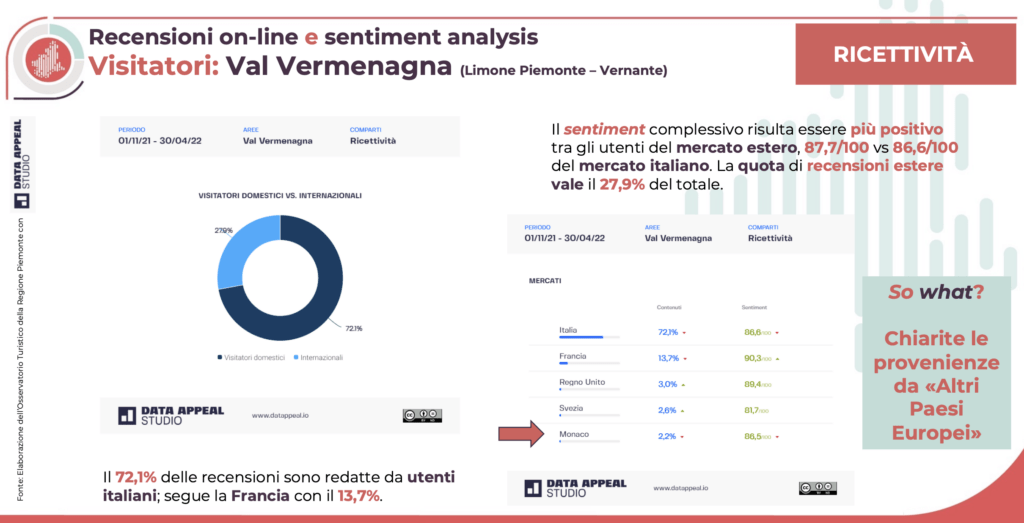 CASE STUDY #2
Enhancing the cyclist experience on the Alta Via del Sale
The Alta Via del Sale, a stunning ex-military unpaved route connecting the Piemonte and French Alps to the Ligurian Sea, winding its way through elevations ranging from 1800 to 2100 metres, has a rich history as a salt transport route.
It's only accessible during the summer, from June 15th to October 15th, due to winter weather making it impassable.
This lunar-like and captivating landscape is especially favoured by cyclists. While motor vehicles have limited access with a fee used for road maintenance, recent efforts have expanded monitoring to differentiate between cars and motorcycles.
"We initiated a data collection process to understand user satisfaction and gather their feedback, including the perspective of cyclists. Safety and maintenance emerged as pivotal areas for improvement, particularly to minimise conflicts between different users.
Using this data, in collaboration with the local authorities, we launched a bicycle monitoring program in 2022, recognizing its considerable importance. We introduced a nominal 1 euro access fee for bicycles, available both online and at the toll booth, to better track cyclotourists.
Working closely with the local administration, we decided to restrict motor vehicle access on specific days to provide cyclists with maximum safety and freedom. As evident in the graph, peak bicycle presence coincided with days when motor vehicles were prohibited on the road, indicating the success of this decision."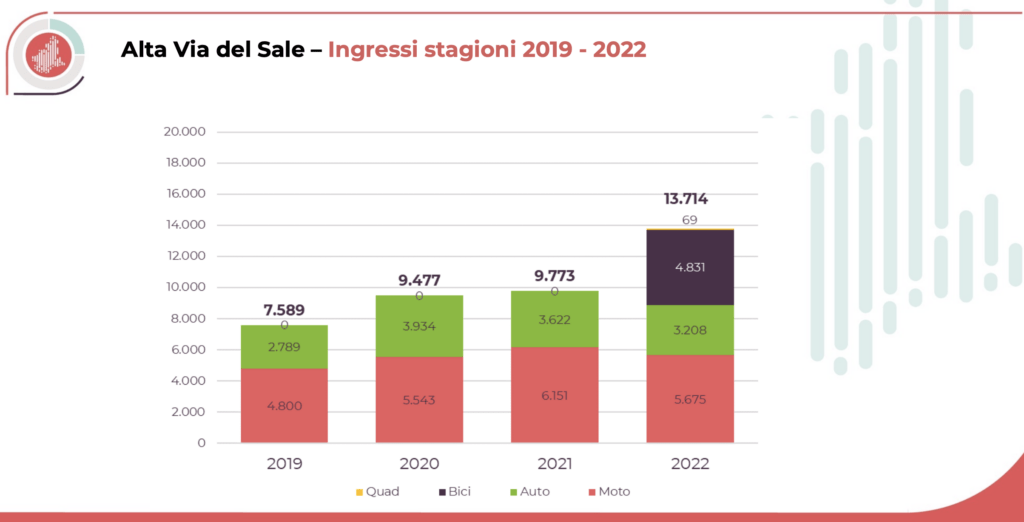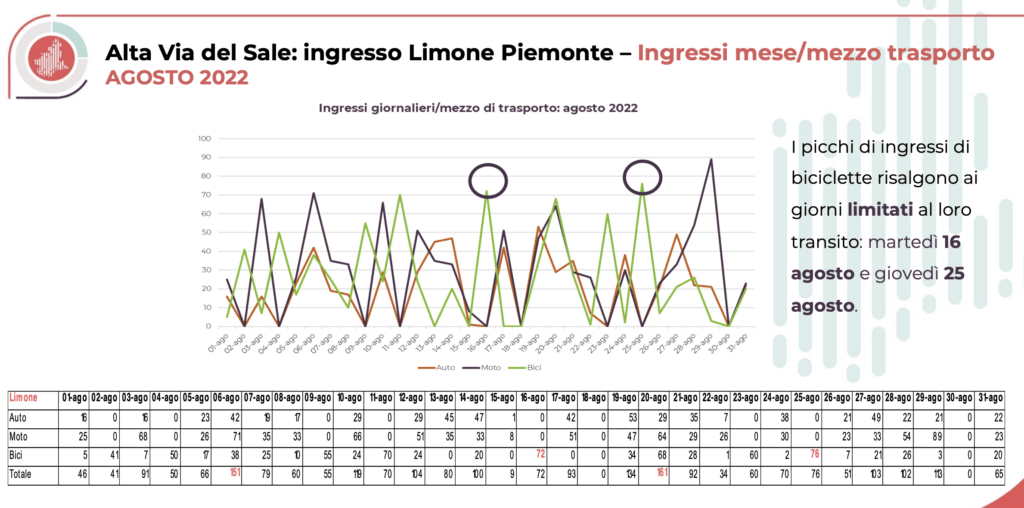 CASE STUDY #3
Langhe Monferrato Roero Observatory
Analysing the 92nd International White Truffle Fair in Alba, understanding participant behaviour, and benchmarking
The International White Truffle Fair in Alba stands as one of Italy's premier truffle-centric events, drawing nearly 100,000 attendees in 2022.
The Langhe Monferrato Roero (LMR) Observatory primarily addresses the need to gauge the tourist and economic impact of this international event on the region. For this purpose, an integrated dashboard has been crafted, featuring statistical data, both domestic and international origins, along with trend integration.
The Spend Index during the fair's timeframe reveals a clear connection between spending on accommodation and its significant ripple effect on the destination. "This analysis has also allowed us to pinpoint that Americans, ranking fifth in attendance, wield considerable spending potential."
Additionally, insights from mobile phone data unveil an overlooked tourist influx, often hosted by friends, family, or in secondary residences. These are primarily visitors primarily from Switzerland and Germany. This supplementary layer of information uncovers days with notably higher tourist activity than official data suggests.
Concurrently, the LMR Observatory facilitates a comprehensive comparison with similar areas both in Italy and abroad, sharing a passion for food and wine.
These territories are assessed quantitatively (based on the number of Points of Interest and reviews) and qualitatively (assessed by Sentiment Score) relative to other comparable wine tourism-focused regions, thanks to D/AI Destinations' insights.
"From a sentiment perspective, the data reaffirms a solid awareness of Piemonte's positioning versus other regions. The Langhe Monferrato Roero area, for instance, surpasses the sentiment levels of key benchmarking territories in Italy and abroad by a noteworthy margin.
To ensure a thorough analysis, we find it valuable to provide insight into points of interest concerning the monitored content. We consistently lag behind Burgundy, which boasts over 200,000 content pieces.
As a result, we have a distinct advantage in terms of positive sentiment. We also outpace Franciacorta and Brunello, and we maintain parity with Chianti, indicating that higher sentiment is a resoundingly positive data point in this context."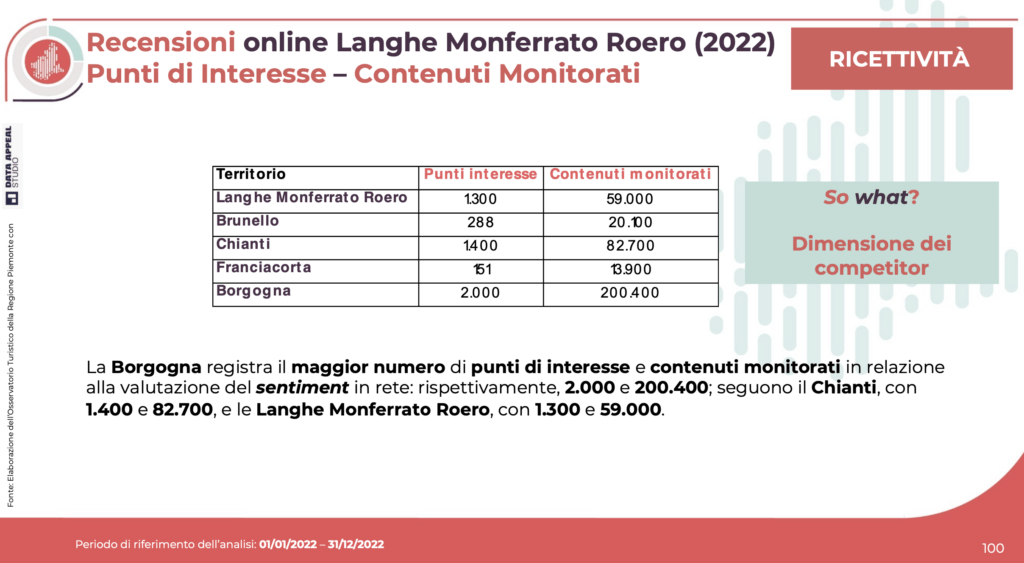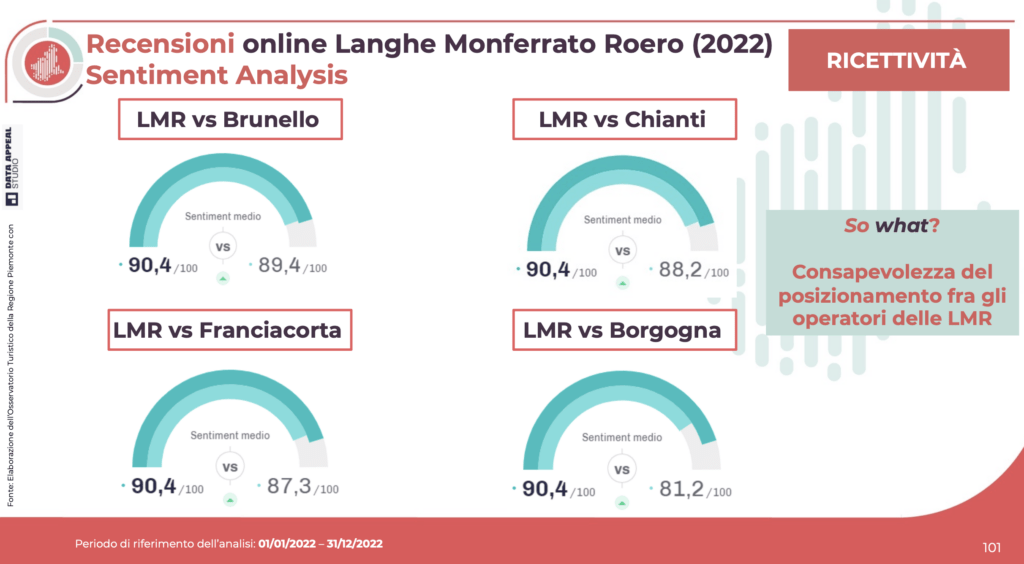 Visit Piemonte's analyses undeniably unveil the intricacies of the data landscape and the genuine significance of a data-driven destination.
To achieve objectives and devise concrete strategies, it is vital to leverage multiple data sources and establish a system that supports their alignment and continual comparison. It is from such analyses that the essential insights emerge to nurture the development of a region.
Explore our destination management solutions