Between July and August 2023, OTA saturation declined by 8.3%, with available offers increasing by 10%, and average rates seeing a substantial 14.5% increase. A positive outcome for summer tourism, despite the challenges posed by a decline in the Italian market as evidenced by the drop in digital traces.
This summer, tourism in Italy has yielded positive outcomes. However, these results have fallen short of expectations.
And these trends have certainly captured the interest of the majority of national newspapers, leading them to provide extensive coverage of this phenomenon in recent months.
So, what led to this drop in OTA saturation in Italy?
Many have speculated that Italians have opted out of vacationing in their home country in favour of other destinations, including Albania, Greece, and Croatia.
But how accurate is this assertion?
To get to the bottom of this, we consulted our own destination management platform D / AI Destinations, meticulously examining all data collected from 1 July to 20 August 2023.
We focused mainly on factors such as hotel pricing, occupancy levels, OTA saturation, sentiment analysis, and the demographics of individuals who wrote reviews during this time frame.
We also compared different types of tourist destinations like coastal areas, mountains, lakesides, and art cities to find out if there were any differences in the data.
August 2023: Global growth and Italian market slowdown
Tourism in Italy is doing relatively well, but not as well as it did during the same period last year. July's numbers align with those from 2022, but as we move into August, there's a noticeable decline in online travel agencies bookings and a surge in unsold rooms.
Italy tourism 2023 data – 1 July – 20 August vs 2022
-8.3% in OTA saturation, especially notable after the latter half of July, while there was a 10% rise in listings available for sale on online portals, albeit with a slightly lesser increase in August
+14.5% in average accommodation rates
-2.5% online reviews are authored by Italians, while foreign markets maintain stability
The decline in Italians' digital comments and reviews, a clear reflection of market trends, strongly suggests a genuine reduction in local domestic travel.

This trend typically indicates hotel owners have been too optimistic about the return of foreign tourists. This optimism didn't align with an actual surge in total demand and failed to consider the true economic circumstances of one of our major tourism sources: the Italian market.
Similarly, lower demand probably prompted operators to scramble by offering last-minute availability on booking platforms in an attempt to compensate for the decline in reservations, albeit without achieving the desired results.
While Europeans and Americans are increasingly back to travelling to Italy's cities and beaches, Italians remain the core demographic for most domestic destinations, particularly those along the coast.
The simultaneous rise in fuel costs, essential goods, as well as domestic airfare and accommodations, appears to have led many Italians to reconsider their plans this year. For some, that meant forgoing their holidays altogether, while others have decided to postpone their travels to September, opt for private residences or the hospitality of friends, or choose more budget-friendly destinations.
It's also important to consider that this was the first year without any pandemic-induced restrictions. And, many people are engaging in the so-called "revenge travel" — that is, people travelling to compensate for the time and experiences they missed out on during the pandemic. And given that the majority of Italians choose to vacation during the summer, it's likely they opted for extended trips to international destinations.
However, airline bookings recorded through GDS in Italy at the beginning of August still confirm a strong increase in incoming tourism (+14%) compared to 2022, mainly driven by foreigners, while domestic bookings show a decline.
This means the overall Italian summer hasn't been negatively affected. ENIT has confirmed that the passengers arriving in August registered through GDS have surpassed those of 2022, especially foreigners, with an increase of 1.1% compared to the previous year's August.
The sentiment in the country also remains very positive and is on the rise compared to 2022: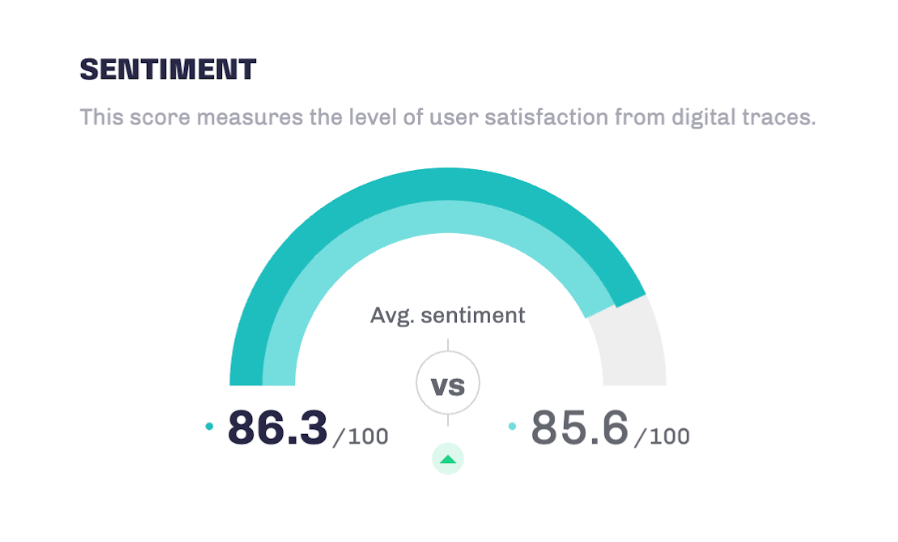 Nonetheless, there is an undeniable shift in the behaviour of Italians this year compared to previous years. August, typically the preferred month for summer holidays, especially by the sea, appears not to have been the top choice this year.
This is a trend that will need to be closely observed to align the offer with the current demand.
Comparing travel destinations: Sea, mountains, lakes, and art cities
To gain better insight into the analysis above and whether it holds true for all Italian summer situations, we compared the main types of Italian destinations.
SEA
For seaside destinations, the data aligns with the national overview. Prices and offers available on OTAs have risen, while the drop in saturation on portals exceeds that of the national average (8.3%). The drop in digital traces written by Italians reflects the market composition.
Sentiment remains strong with a slight increase:
-13% in OTA saturation vs 2022
+10% in offers available on OTAs
+12% in average accommodation rates
-2.6% in reviews by Italians
+0.8% in Sentiment (85/100)

MOUNTAINS
In mountain destinations, there was a significant rise in average prices (+17.6%) as well as a notable drop in OTA saturation (-14.5%), despite a slight rise in available offers. As a result, the number of unoccupied rooms is considerably higher compared to the previous year. Digital traces also dropped compared to 2022, particularly from Italian sources.
-14.5% in OTA saturation compared to 2022
+5% in available offers on OTAs
+17.6% in average accommodation rates
-5% in reviews by Italians
+0.5% in Sentiment (88.2/100)

LAKES
The OTA saturation for lake destinations has seen the most substantial drop (-19%) compared to the same period last year. While the available offers remain similar, the average prices have increased by 9.3% on average.
In this case, the decline in OTA saturation seems to be primarily attributed to a decrease in bookings. Both Italian and German market reviews, historically crucial for lake destinations, have also decreased.
-19% in OTA saturation vs 2022
+0.5% in offers available on OTAs
+9.3% in average accommodation rates
-3% in Italian reviews
-1.3% in German reviews
+1.5% in Sentiment (86.2/100)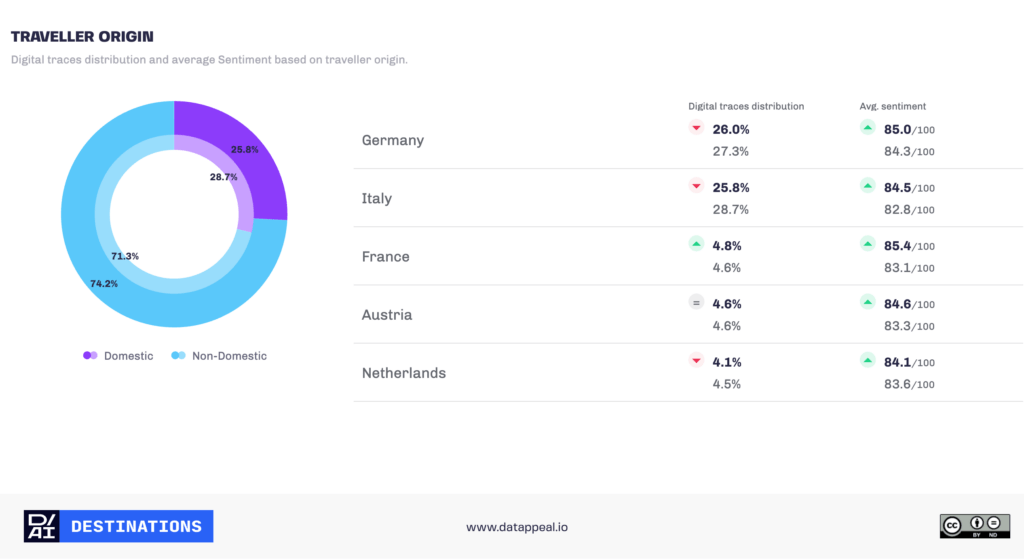 ART CITIES AND CULTURAL HUBS
For cities renowned for art, and destinations where the cultural landscape is the primary key attraction, the decrease in OTA saturation was 9% compared to the previous summer. The average price increase was higher than that for other offerings (19%).
The number of available offers for lake destinations is similar to the previous year, and at times lower. As a result, this decline in saturation is attributed to a tangible decrease in bookings.
-9% in OTA saturation vs 2022
Available offers stable vs 2022
+19% in average accommodation rates
-2% in Italian reviews
+1.3% in Sentiment (85/100)

Leveraging data as a foundation for tourism growth
The information we've compiled aligns seamlessly with the statements made by Tourism Minister Daniela Santanché:
"There is various data about tourism out there. Some portray 2023 to be a pivotal year, while others suggest the much-anticipated recovery hasn't materialised, and in a few cases, even present alarming figures. June surpassed our expectations, followed by promising figures in July. However August showed a dip with noticeable declines, on which we need to reflect and analyse."
"The balance should not be viewed negatively; on the contrary," highlights Mario Romanelli, Sales Director for Italy at The Data Appeal Company. "However, analysing the data in detail reveals a more intricate and nuanced perspective than what many may perceive at first glance.
This information is vital for DMOs to support operators, particularly in the hotel industry, to spot shifts in traveller habits and behaviours and define new strategies that are more in line with trends and demand, in order to achieve superlative results."
Interested in the latest updates on tourism