Foto: Visitemilia.com
How Visit Emilia strengthened their brand identity and improved their destination marketing effectiveness with Data Appeal's sentiment analysis.
Visit Emilia is a public organization established by the Emilia Romagna Region, made up of 118 municipalities with offices in Parma, Piacenza and Reggio Emilia. Their main purpose is to implement and coordinate all destination marketing activities throughout the region.
The Challenge: uncovering visitor perception of the region
"We required a deeper analysis, based on real-time and updated data that includes customer evaluations", shares Pierangelo Romersi, Director of Visit Emilia.

When he first started at Visit Emilia over two years ago, he immediately realized that the destination didn't deeply understand the visitor perception of the territory. The team's main objective was to create and deliver relevant and engaging tourism promotional marketing and communication material to attract new visitors, while enhancing the retention of past ones.

Furthermore, like many DMOs, Visit Emilia must conduct collective efforts to build an attractive and competitive destination with authority, effectiveness and efficiency, including operators from across all industries. With this in mind, their secondary goal was to create trusting relationships among organizations and generate cooperation between the various stakeholders and shareholders.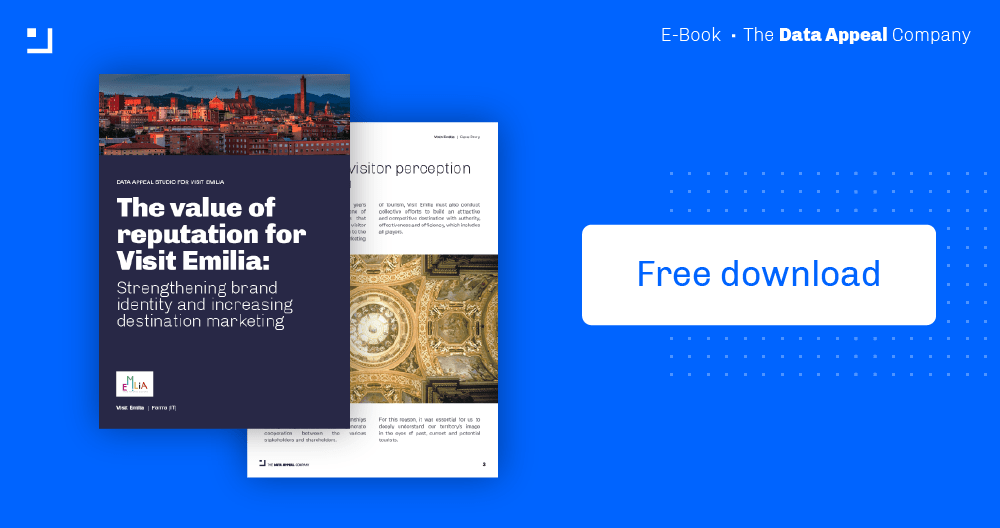 The most effective tools to interpret a destination's reputation
When Visit Emilia met Data Appeal a few years ago, they immediately understood that we could aid them in interpreting the reality of their tourist offer and plan future actions based on the real perception of visitors.
They purchased Data Appeal Studio, our platform dedicated to tourism destinations and DMOs. Visit Emilia has reaped many benefits while using the platform, establishing a strategic focus on various networks and sub-areas within their territory.
Leveraging sentiment as a KPI to test the effectiveness of destination marketing strategies
Data Appeal provides Visit Emilia with the right tools to obtain a global view of visitor satisfaction and enables them to acquire fundamental elements to share with their public and private stakeholders. The insights obtained allow them to effectively plan and coordinate strategies aimed at destination growth.

Today, Visit Emilia has integrated Data Appeal Studio into their business practices and strategic decision making. The platform provides an analysis on visitor demographics, how visitors perceive their destination online and the most appreciated and criticized topics. It's an invaluable tool for marketing, communication and management strategies. 

Data Appeal Studio also includes indexes that provide Visit Emilia with an inside look at their destination. The Covid Safety Index and Travel Barometer are critical to gauge traveler confidence.

The platform is useful for both the institution as a whole and the individual staff, who everyday acquires awareness of how their work is perceived in the eyes of visitors. The time period, sub-destination and industry comparison feature is especially helpful for their stakeholders, as they periodically share results to measure territorial growth.
"It was essential for us to deeply understand our territory's image in the eyes of past, current and potential tourists."
Discover all the benefits of Data Appeal Studio. Download the full story.