What are the driving reasons for choosing a holiday destination over the other — even when the offer and price don't vary? 
Why should travellers pick your destination? What makes them opt to holiday somewhere else? 
There's one analytic tool that can help you answer this question: destination benchmarking. 
Competitor analysis is one of the crucial foundations of a successful destination marketing and management strategy. 
However, this assessment isn't as easy (or quick) as it sounds. 
Following two years of lockdown, people are moving and travelling more than ever, with estimates by the U.S. Travel Foundation predicting a sharp increase in travel spending by Americans compared to 2022. 
In fact, total travel spending in May 2023 is estimated to have increased by 1.4 percent compared to May 2022 and 5.5 percent year-on-year.
Within such a competitive landscape, all destinations — regardless of their size — need to invest their time and resources to increase their visibility and to gain and maintain a competitive edge. And, to maintain this advantage, they understand how they're performing when compared to the competition. 
This analysis, also known as benchmarking means you can compare your offerings and geographic characteristics against those of similar destinations, and will allow you to:

Gain new market share

Increase tourist flows and satisfaction 

Make your destination stand out to travellers, and highlight its unique characteristics and attractions to make it easily recognisable and distinguishable 

What is destination benchmarking or competitor analysis, and how can it help in promoting a tourism destination?
Benchmarking is the process of evaluating one's own products, services, or strategies against the best practices in the market. In this case, it involves comparing one's offerings with the top destinations in the market.
However, without a point of reference, it's difficult to evaluate the quality of one's performance.
So, why is destination benchmarking so important? What benefits or advantages can you obtain from it?
Analyse the best practices put in place by other destinations
Identify strengths and weaknesses to work on
Understand which benchmark KPIs to measure your own progress
Test the real effectiveness of campaigns and promotional activities against given objectives
Demonstrate value and results achieved to share with operators, stakeholders, and shareholders
Gain and maintain a competitive advantage
Competitor analysis is a structured, yet complex process, as all destinations have their unique traits and requirements. There's no universal formula for success — every destination will need to develop their own tailored benchmarking strategy to reap its benefits.
In this article, we'll share an overview of the competitor analysis process, focusing on the steps needed to develop a customised analysis and the value of data analysis in carrying out this activity.
Identify your competitive set
Collect and analyse competitor performance
Define comparison metrics
Identify strengths and weaknesses
Plan the optimal course of action
Identify your competitive set
As a first step, you need to narrow down your search to a set of limited competitors, based on certain traits. According to Destination Expert Antonio Pezzano the factors you need to consider when picking your competitive set are:

Accessibility
Attractiveness
Hospitality
Brand recognition
Marketability of the offer 
In certain circumstances, it can be beneficial to determine your competitors based on the type of tourism product you wish to offer. This could include positioning yourself as a beach, golf, or honeymoon destination, for example. 
When targeting multiple markets, it is important to select competitors specific to each market you wish to reach. 
2. Collect and analyse competitor performance
Once you've defined your competitors, it's time to carry out a 360º comprehensive analysis of these destinations, including factors such as:
Visitor numbers
Travel experiences
Facility availability
Prices and average rates
Marketing strategies and international marketing
Communication channels
Level and quality of a tourist's perception of a destination
Ideally, you should break down your analysis into industry categories, such as hotels, attractions and museums, transportation, and food and beverage.
In this way, it will be easier to identify strengths and weaknesses of a given destination, and measure them against your own.
3. Define comparison metrics
To measure progress (or regress) of your performance, compared to other destinations, you need to need to analyse criterion that allow you to:
Define the state of the art of the situation to date
Recognise trends over time to track any changes
One common misconception is that one of the main comparison metrics should be visitor numbers — however, that's not entirely true.
You cannot put all of your visitors under one umbrella. Different types of visitors have differing characteristics, and they also differ in their spending power.
Let's take the following as an example. 100 families with small children lodging in private accommodation who seldom eat out will impact a destination differently compared to 100 well-off couples, staying in luxurious hotels, who get massages in spas, and dine out every day.
So while comparing visitor figures is still useful, you'll need to put them in context by considering other factors coming into play such as length of stay, average spend, visitor satisfaction, and origin of visitors.
You'll also need to consider other KPIs such as the average prices of hotels, museums, public transport, accessibility of location, the number and quality of train stations, airports, and so on. Similarly, you'll also need to take into account the variety of these services available.
One other crucial element to keep in mind is the so-called "sentiment" the tourism destination enjoys.
In short, Sentiment is what your destination visitors are saying about their experience during their visit.
Even though you can gather this information using digital or traditional surveys, there's a wide choice of software you can use to analyse your Sentiment Score, that will automatically gather and study the overall sentiment of a destination or tourism sector.
Especially if you manage a fairly sizable destination, such as an entire country or region, adopting such tools that allow you to check sentiment for individual regional areas or city zones is crucial.
In this way, you can pinpoint the areas suffering from a weaker reputation.
For instance, this is the overall Sentiment Score analysis for a single tourism sector in Amsterdam during the past 6 months: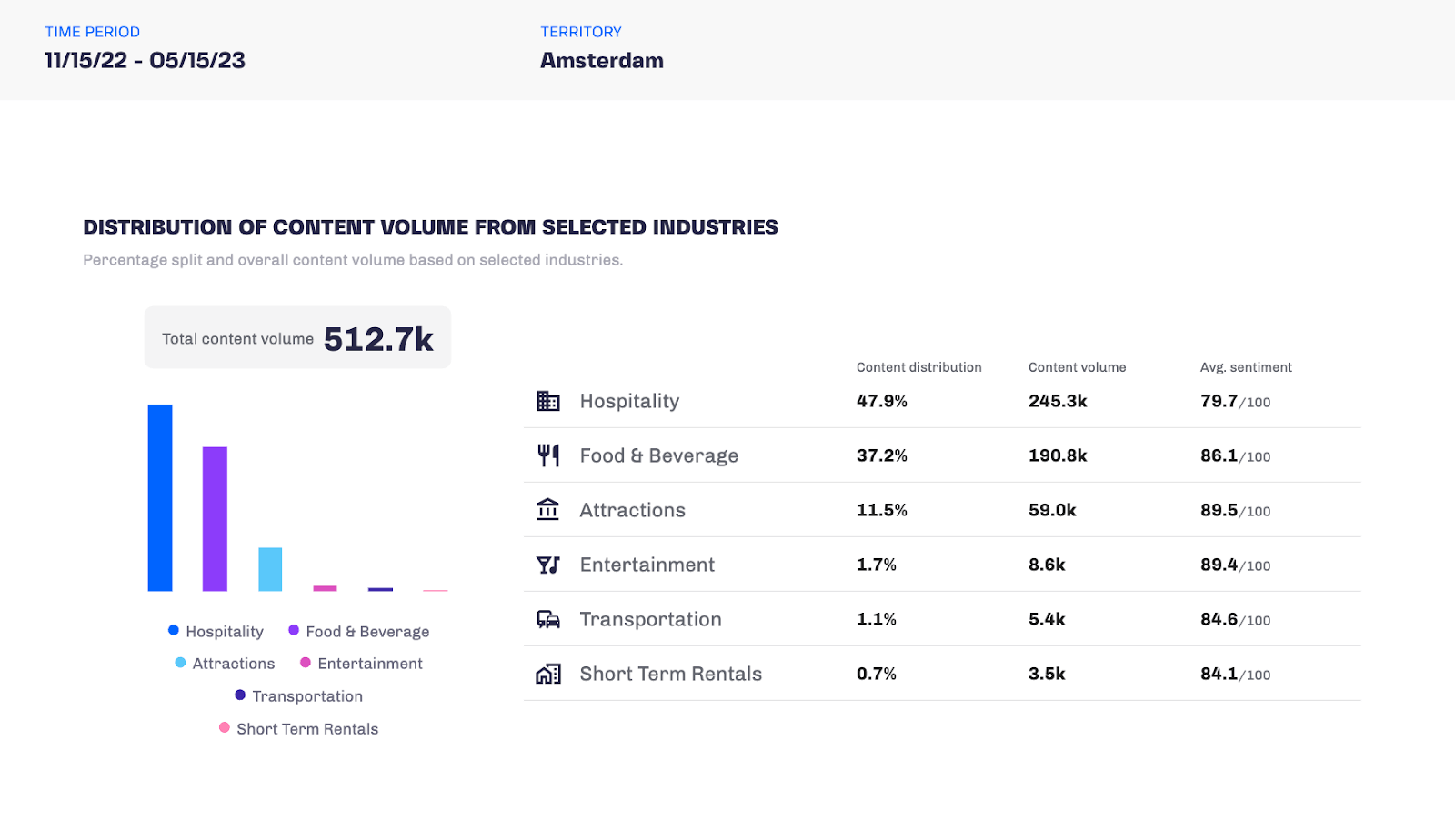 (Overall Sentiment Analysis and Sentiment Analysis broken down according to tourism sectors – Source: D / AI Destinations)
4. Identify strengths and weaknesses
Why should you analyse your destination sentiment, i.e. the perception expressed by users online?
Sentiment is a direct reflection of a destination's brand reputation. The higher it is, the better the reputation of a particular destination.
However, simply measuring sentiment won't be enough. You'll need to look beyond the figure you're presented with to truly understand the real reputation of your destination.
Various destination management softwares analyse online content, with some allowing a semantic analysis of the text. Basically, a positive, negative or neutral value is assigned to what is being said.This allows the system to detect discussion topics and associate each topic with a positive or negative experience.
By comparing the semantic analysis of content related to one's own destination with that of competitors, it can help understand the strengths and weaknesses of both to better promote the tourism destination.
For example, let's consider Amsterdam as your destination competitor. If we dig into the semantic analysis of online content posted in the last six months about museums and tourist spots, we'll find that there are some specific elements with a significantly low Sentiment Score. In this case, it's all about the accessibility issues concerning stairs and lifts.
This is an incredibly interesting insight because it allows you to:
1. Observe the perception of museums regarding the matter of accessibility in the destination, allowing you to understanding you have any similar issues
2. Gain a substantial competitive advantage by implementing measures to enhance the visitor experience, surpassing competitors in this particular area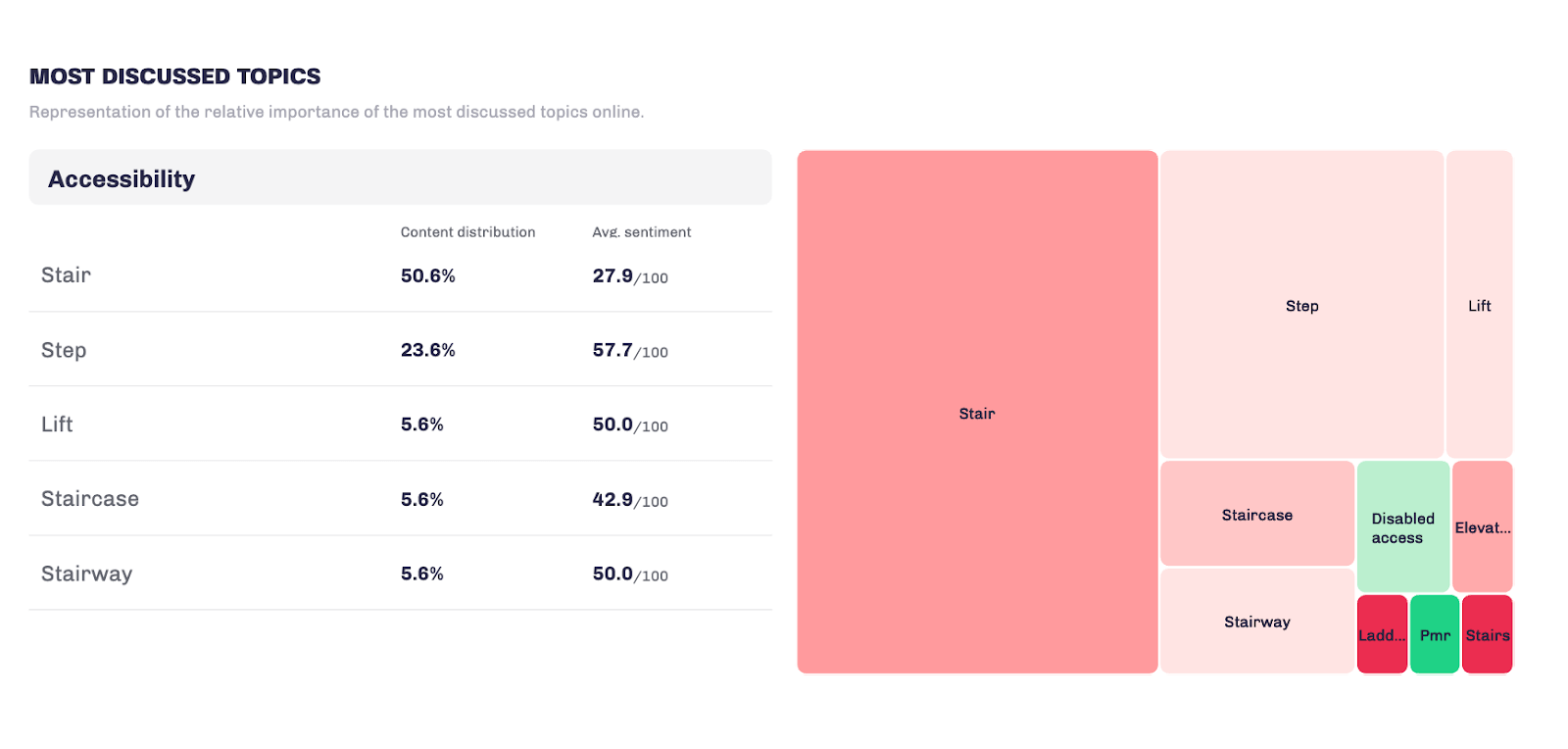 (Analysis of most discussed topics regarding Amsterdam – Source: D / AI Destinations)
5. Plan the optimal course of action
Once you've got a clear picture of how your destination stacks up against the competition, it's time to plan an actionable strategy with a budget to boost your performance to new heights.
Do you need to improve certain types of services?
Should you consider adjusting your communication strategy or targeting a different demographic to attract fresh visitors? Are there specific aspects of your destination in which you excel compared to competitors, which should be amplified and marketed to gain a competitive advantage?
Gathering all the necessary data to back your spending and investment decisions is crucial at this stage, especially when dealing with public and private entities, partners, and stakeholders, who need to give the thumbs up on your spending plan.
Gaining insights into tourist sentiment and comparing it with other destinations: the Piedmont case study
Piedmont, one of Italy's prominent regions, particularly renowned after successfully hosting the 2006 Winter Olympics in Turin, has embraced a curated strategic approach to destination benchmarking in recent years.
The regional Destination Management Organisation (DMO) made a significant decision in 2020, opting to leverage the power of the D / AI Destinations spatial analysis platform. Through this platform, they gain real-time insights into supply and demand, sentiment scores, and can effectively plan targeted promotion and investment strategies to enhance the allure of the tourist destination.
Piedmont bettered their decision-making process through territorial benchmark analyses to inform their marketing and investment strategies, comparing destinations within the region and evaluating their performance relative to similar destinations in Italy and abroad.
"The analysis revealed fascinating insights through comparisons between the tourism offerings of Langhe Monferrato Roero and similar regions renowned for their food and wine allure. This included national benchmarks such as Brunello, Chianti, and Franciacorta, as well as an international benchmark, Burgundy."
Cristina Bergonzo, Head of the Tourism Observatory, Piedmont Region
The Langhe Monferrato Roero (LMF) area has gained global popularity, especially for its production of renowned wines like Barolo. 
Through careful analysis and strategic planning, LMF has achieved impressive results, particularly in shaping the perception of its tourism offerings.
Accommodation: 93.6/100 vs. 86.2/100
Catering: 90.1/100 vs 84.2/100
Attractions: 90.5/100 vs 89.6/100
Overall: 90.9/100 vs. 85.6/100
Top 3 tips for expanding your competitor analysis
Regardless of the tools you choose, there are additional measures you can take to ensure a comprehensive and precise competitor analysis:
Participate in dedicated events for tourism destinations: By attending industry conferences, workshops, and events specifically tailored for Destination Management Organizations (DMOs) and staying updated on industry news, you can gain valuable insights into popular tourism destinations. Sharing experiences with fellow destination managers and learning from successful destinations directly can provide invaluable elements to complement your destination benchmarking efforts.
Embrace a data-driven approach: Choose suitable tools to automate the collection and analysis of information about your destination and competitors. This will not only save you time and money but also empower you to make informed decisions with a reliable return on investment.
Engage in real-time analysis: Employ cutting-edge tools to continuously monitor destination data and travel trends. This will enable you to maintain agility, adapt to evolving visitor preferences, and respond promptly to emerging opportunities or challenges in comparison to your competitors.
Looking to conduct real-time comparisons between your tourist destination and competitors? D/AI Destinations makes it possible within minutes.
Get your free trial now, with no strings attached.