Attending industry events is a great way to stay updated with the latest travel trends and updates.
One of the most exciting events we participated in this year was CityDNA Conference in Sofia, Bulgaria. Over four days, we had the opportunity to connect with fellow industry experts, gain valuable insights, and showcase our range of data solutions.
The 2023 edition was dedicated to the so-called "elephant in the room" — sustainability within the travel industry.
Sustainability has not been given the attention it deserves for a long time, even though more and more people are recognising the adverse effects of travel on the environment and local communities.
At the CityDNA conference this year, we had the opportunity to focus on sustainability and brainstorm ways to implement comprehensive sustainable strategies.
These are the five key takeaways we thought you'd like from this year's edition:
1 – The future is in sustainable travel
Most aeroplanes use petrol as their power source, contributing to 55% of all travel emissions and 2.5% of global CO2 emissions.
This means that if we want to reduce CO2 emissions in the coming years, we must either travel using other types of transport or embrace Sustainable Aviation Fuels (SAF), that are safe, reliable, and low carbon.
According to CityDNA, the total amount of SAF produced globally in 2019 was only 0.1% of the total, equivalent to the fuel needed to power a 9-hour flight.
The EU recently agreed to charge European airlines for excess carbon dioxide emissions as part of a new agreement to bring the European air transport industry in line with its climate targets.
However, should airlines be required to pay new taxes, fares will rise even further. This could potentially end the era of low-cost travel that has democratised travel for millions of people worldwide.
Experts recommend eliminating long-haul flights as a way to achieve sustainability goals.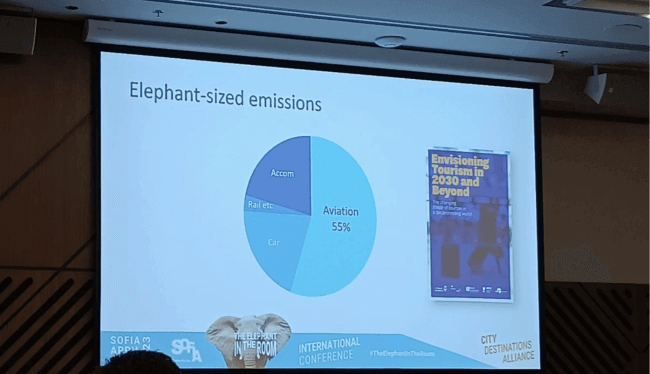 2 – Travellers' habits will adapt to new trends, leading destinations and operators to follow suit
While air traffic is expected to shrink due to rising environmental and economic costs, travelling will still be possible.
However, this means travellers will have other options to choose from, such as:
Opting for more sustainable solutions, which are already becoming increasingly popular
Consider taking short trips and exploring local attractions instead of travelling long distances.
Destinations and operators can develop more sustainable growth strategies by adapting to new travel habits.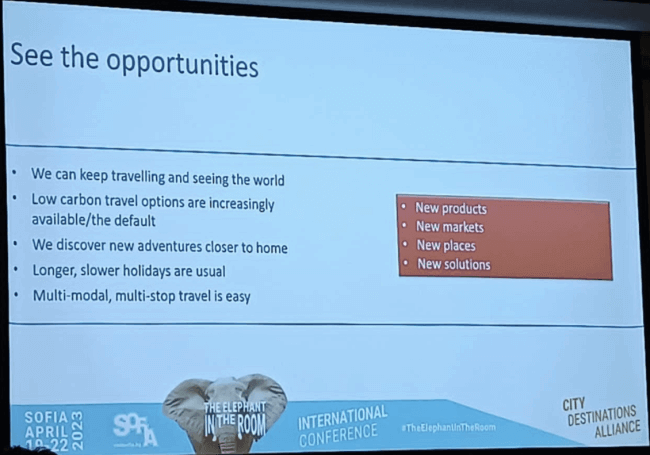 3 – Sustainability means more than just fighting the climate crisis
Sustainability is more than just having zero emissions and being environmentally responsible. It also involves adopting new policies to promote inclusivity and respect for local cultures.
The ongoing political and social issues worldwide will inevitably affect the tourism sector — potentially increasing challenges for those in the industry.
This means tourist destinations and travel companies will have to deal with further inequality, inflation, health and migration issues, all of which are aggravated by international conflicts.
CityDNA shared a noteworthy observation about the unequal distribution of air travel.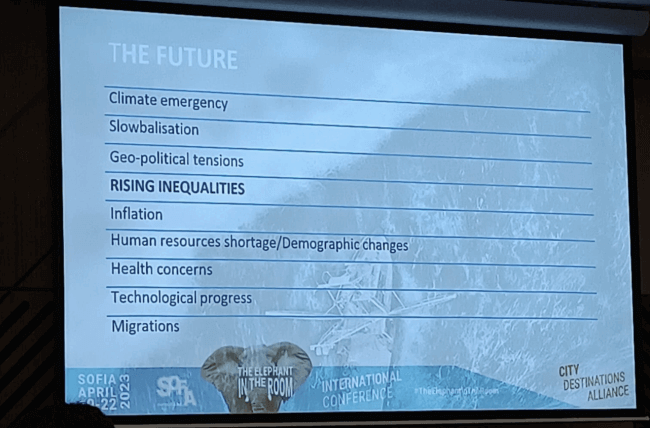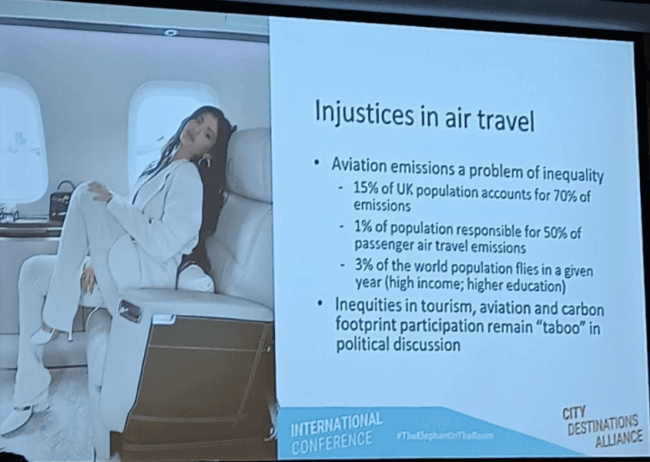 4 – DMOs must lead the transformation process
Tourism destination management organisations (DMOs) hold the power and responsibility to lead the way towards a more sustainable world.
However, the question is: where should they begin?
A key aspect of this initiative is to involve the influential players in the tourism industry, including major public and private organisations and companies, known as 'game changers', that contribute significantly to emissions. The goal is to encourage them to adopt a new and better approach.
The idea of "green euros," which involves money tied to CO2 reductions, should be more than just a marketing tactic, perhaps similar to greenwashing. It needs to become a crucial tool for taking action.
DMOs need to be courageous and embrace the opportunity to make significant changes in how they approach tourism. Rather than relying on pre-pandemic standards, they should be open to adopting new strategies that align with current global market trends.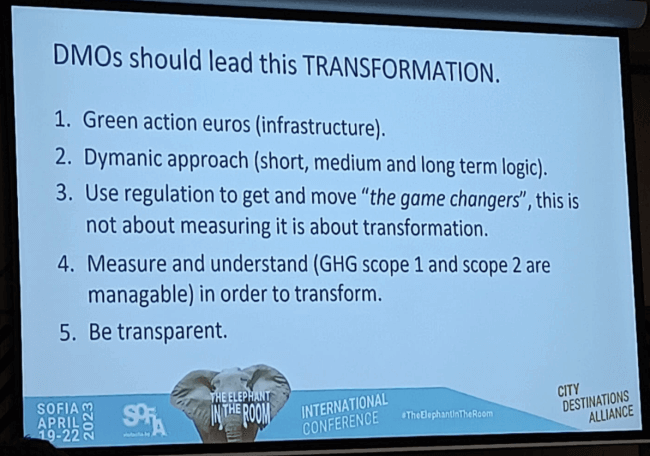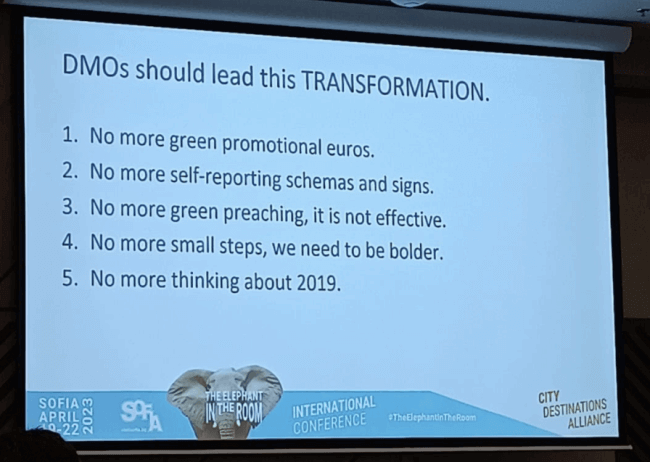 5 – Data will be the key to measuring and achieving sustainability goals
Considering these insights, having the right tools to track, measure and achieve sustainable goals will be crucial for DMOs.
So-called "smart cities" have already adopted various strategies, technologies, and key performance indicators (KPIs) to evaluate sustainability in its various aspects, such as environmental, economic, and social factors.
We discussed this topic during our presentation "Taking the guesswork out of destination marketing & management with data-driven insights".
At Data Appeal, we assist tourism destinations in evaluating and analysing their sustainability efforts.
In fact, we developed our first two sustainability indices — the Destination Sustainability Index and the LGBTQ+ Index — to gauge environmental and social sustainability levels.
We recently produced a report for ITB Berlin that provides an overview of environmental sustainability in four European metropolitan cities. Barcelona, the world's first city to obtain the Biosphere Certification, received the highest score.
Assigning scores to different aspects allows destinations to pinpoint specific weaknesses:
Over-tourism is a problem in Rome, for example. At the same time, Berlin struggles in social and cultural aspects. However, the German capital is already actively addressing its pain points, so much so that the city has recently invited its residents to participate in tourism planning decisions, showing a high level of community involvement.