Traditionally, when referring to Location Intelligence, we describe the usefulness of drawing on large amounts of geo-localized data to obtain valuable business information, solve problems, and strategize new growth opportunities.
But what happens when quantitative data is supported and strengthened by qualitative data? What insights will be obtain by combining customer feedback, behaviors and profiles with geolocation, context and business data.
The advantages derived from Location Intelligence multiply. Business analyses become more accurate and comprehensive, and therefore more strategic for assessing real estate investments and expansion, market forecasting and customer identification and targeting.
Inside Look at Dubai: combining geolocation data with customer preferences
Dubai is the nucleus of the Middle Eastern economy. The Italian Chamber of Commerce in the UAE reveals that numerous governmental actions aimed at supporting economic expansion are expected for the two-year period 2019-2020, especially within the "tourism, logistics, transport, wholesale and retail sectors" and all aimed at attracting new private investments.
A recent mapping conducted by The Data Appeal Company in the Dubai Food & Beverage sector illustrates the incredible potential of a combined analysis – of quantitative and qualitative data – to make strategic investment decisions.
At a first level of analysis, we extrapolated the various categories of establishments present in the city with a dedicated focus on the types of ethnic cuisine offered.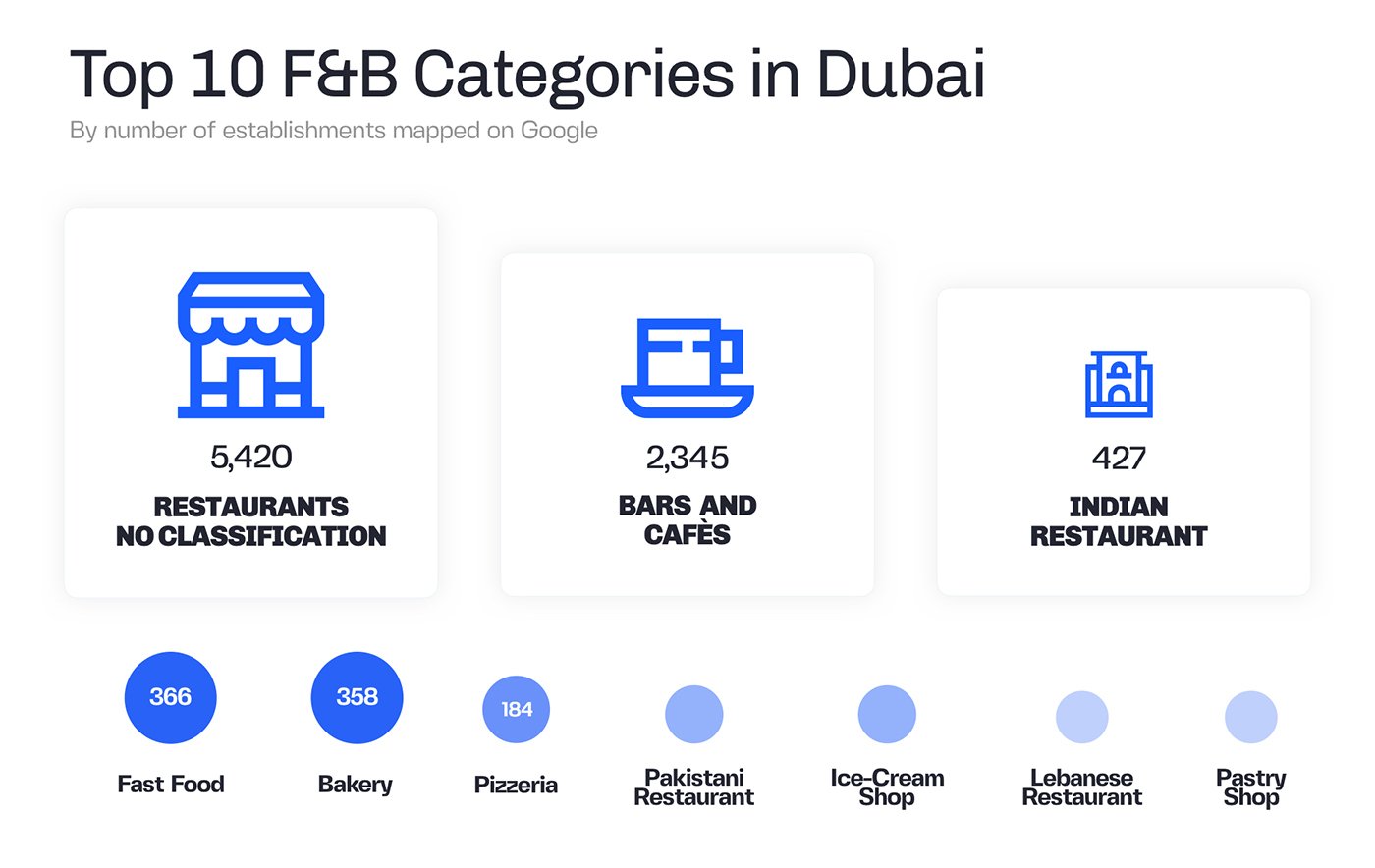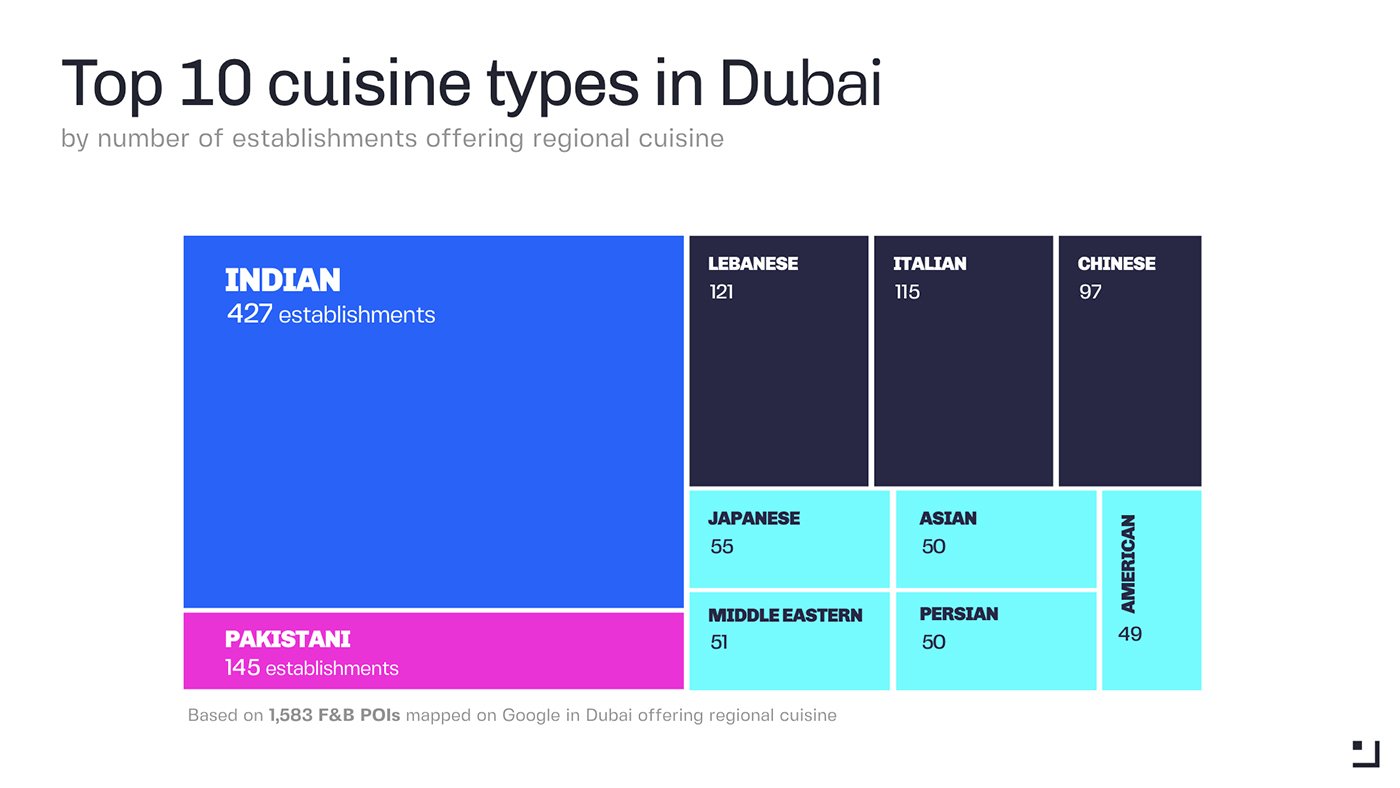 For each category of cuisine type, we accurately identified the geographic coordinates and density on the territory.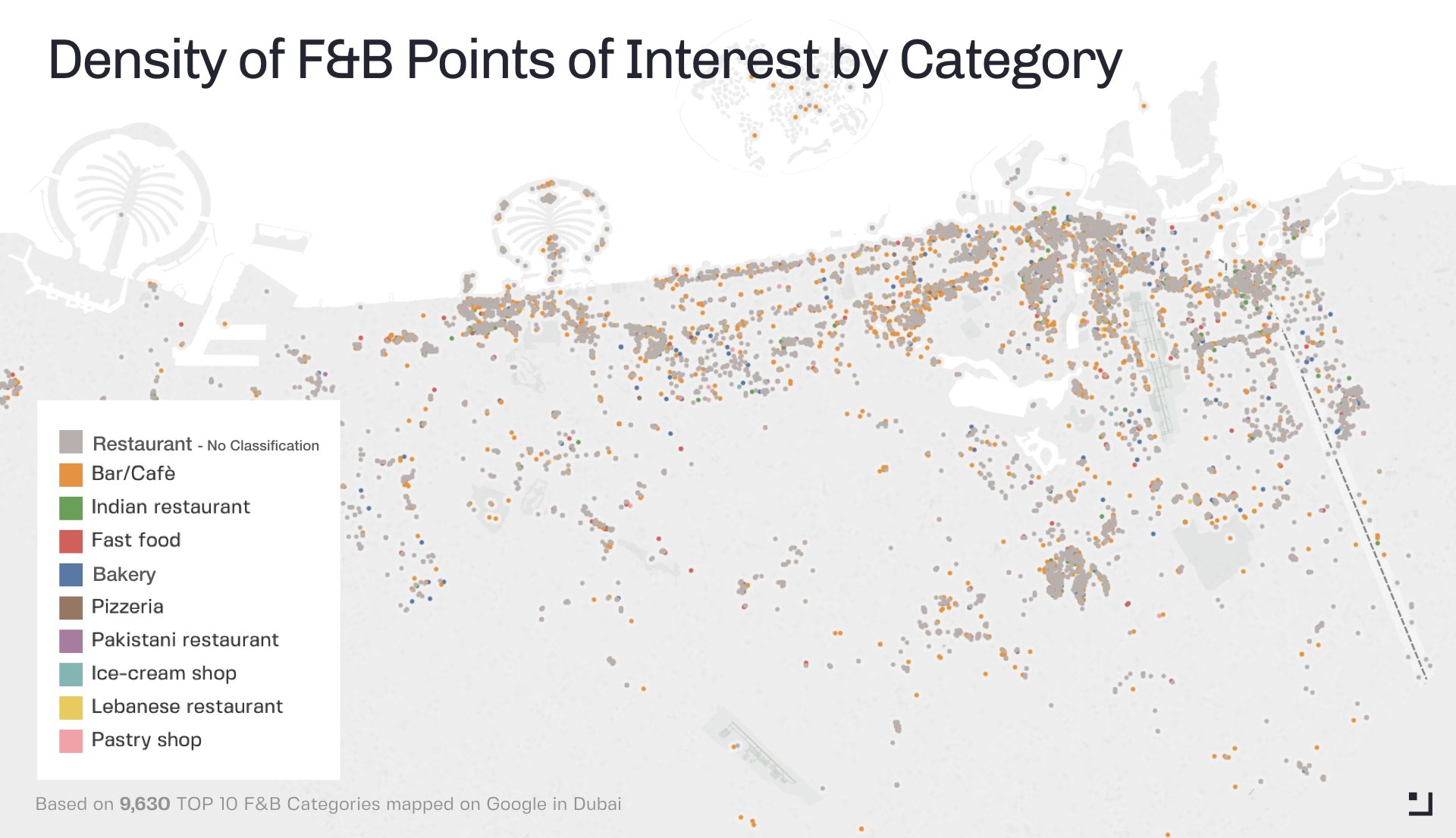 From this quantitative level, a qualitative analysis was added, extrapolating the Sentiment (customer perception expressed online) for each type of Point of Interest (POI) and cuisine type.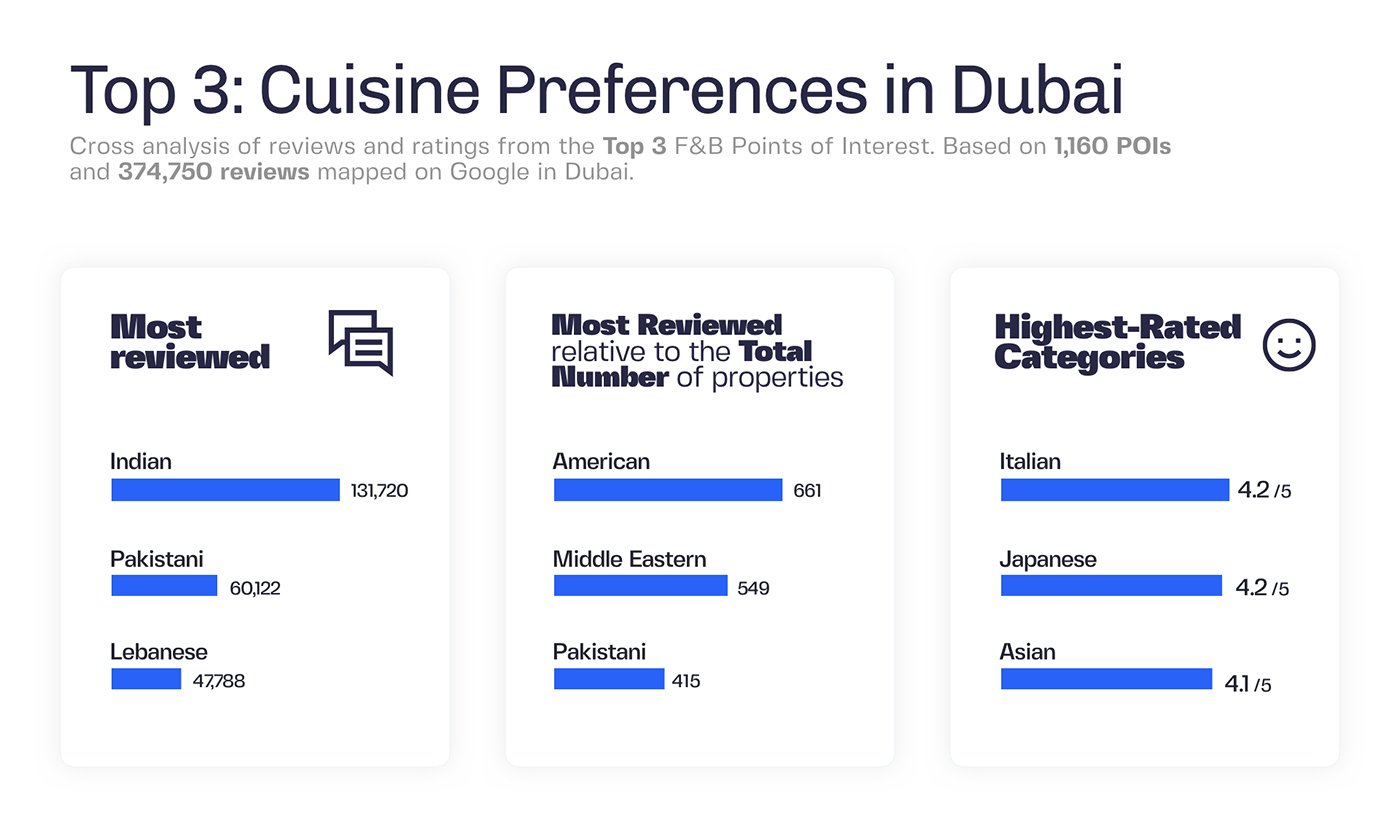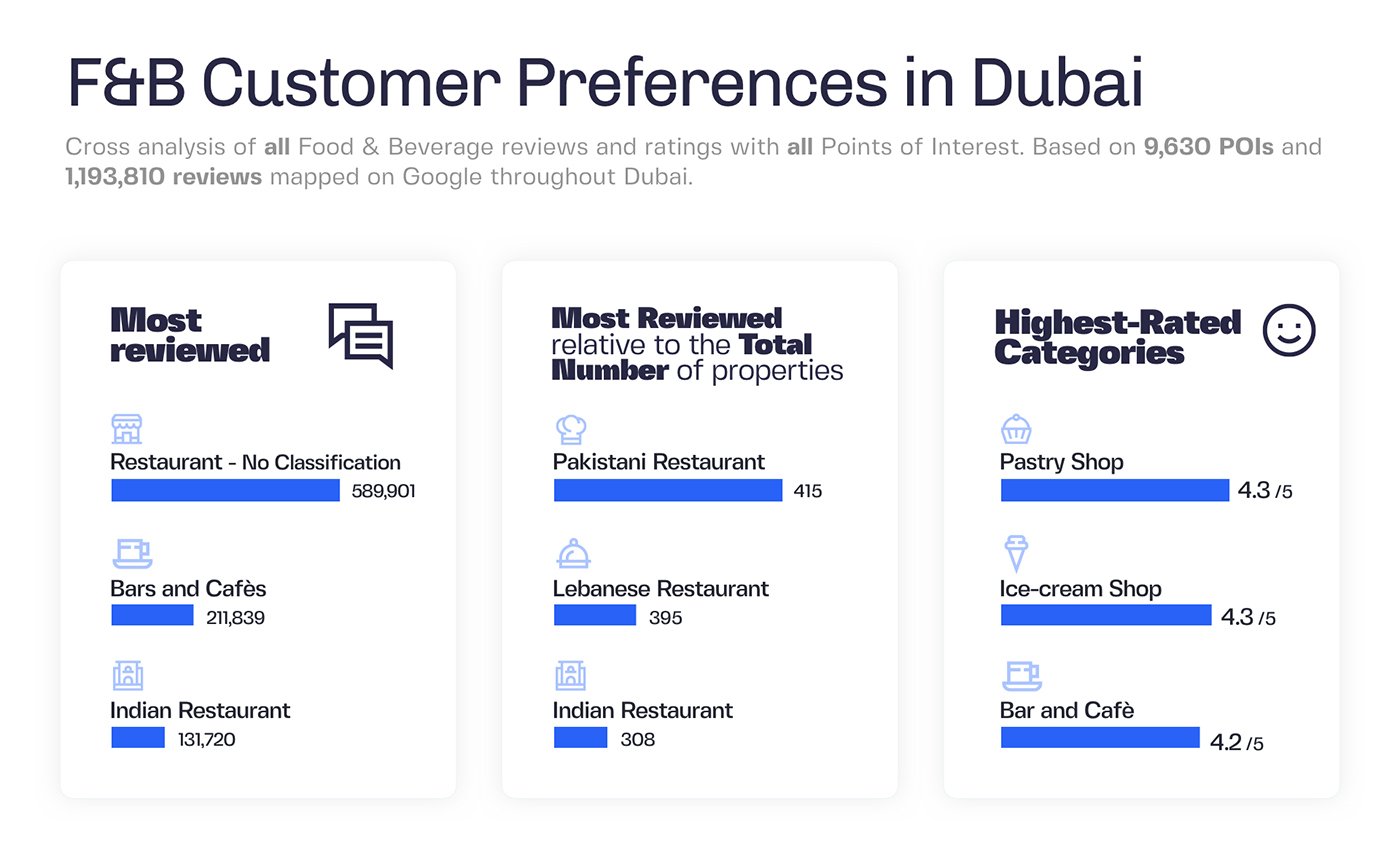 This is just a sneak peek of the capabilities of our technology at a local level. For both large destinations and in small areas, can Location Intelligence technology offers strategic solutions to business across every sector, from retail and real estate to finance and media and entertainment.
Data-driven decisions – your competitive advantage
Investments and commercial decisions were once driven by intuition, previous experience and competitor analysis. Today, location intelligence offers new insights with accurate and reliable information, to aid businesses in making the most strategic decisions.
An analysis, like that of Dubai, can answer many questions in regards to investing and decision making. With Location Intelligence, you can:
Identify the most suitable areas for investment or redevelopment, based on customer satisfaction and perception, lease and purchase costs, the presence of competitors and growth trends of new properties across a variety of sectors
Pinpoint the most strategic areas to expand your e-commerce, delivery or in-store services
Extrapolate the Sentiment, expressed by online users, over time to identify which activities are most profitable, trending and appreciated by customers
Expand sales network by uncovering new opportunities, or on the contrary, resize points of sale based customer satisfaction and contextual geographic data
Quantify and mitigate the risk of new investments by deeply understanding the potential of specific locations and consumer preferences in the target destination and in relation to existing POIs
Identify changing attitudes related to specific socio-economic situations and define new strategies or services.
Amid the ongoing Covid-19 crisis, mapping POIs over a specific area with related semantic analysis of online content, can reveal customer needs, expectations and desires otherwise difficult to intercept. 
Decision making in uncertain times
We're living in a climate of uncertainty. Many businesses across a variety of industries are rethinking their business models, radically altering logistics, operations and customer service.
It's critical to invest in the most strategic solutions, especially in these times. Location Intelligence provides the answers for businesses to analyze every aspect of the market, from geographic and contextual to data relating to customer feedback and online sentiment expressed by consumers of today and tomorrow.
See our data in action! Download the free sample Location Intelligence Report and uncover the advantages for your business.