Over the past three months, tourists have returned to flock to cities, beaches and mountains across Europe for a long-awaited summer holiday.
Italy alone records + 567% in flight bookings and + 1091% in hotel bookings between April and mid-July. For autumn, the numbers are encouraging, but still a ways away from pre-Covid figures.
The Rise and Fall of European Tourism 2021
As summer winds down, it's time to take stock of European tourism figures for the first half of 2021. Like never before, all eyes are on the performance of hotels, restaurants and attractions over the past few months. While we have not returned to pre-Covid booking levels, the desire for a European vacation – by both domestic and foreign travelers – is evident. The seesaw of Covid-19 infections, the fear of the Delta variant and the uncertainty surrounding the Green Pass, quarantines and general regulations has opened a black hole of questions.
The Data Appeal Company, as a follow up to our June 2021 Tourism Report, has returned to collaborate with long-time partner and digital marketing platform Sojern. Together, we analyze the latest summer trends and forecast what awaits us in the second half of 2021.
The Booking Boom: Foreigners return to Italy in waves
The desire for a summer holiday – and la dolce vita – has led to a surge of flight and hotel bookings across Italy. Our data, based on the semantic analysis of online content (over 1 billion reviews, social posts and more monitored every day) and Sojern's hospitality and tourism operator insights, confirm this growth.
Italy recorded significant growth in bookings between April and mid-July: + 567.6% in flight bookings to Italy and + 1091.7% in hotel bookings.
Naturally, domestic tourism makes up the majority of the Italian tourism market. Though it continues to grow and follows last year's trend, travelers from Western Europe (mainly Germany, France , Belgium, Denmark, Austria, Spain and England) have surged between mid-May to mid-August. 
These foreigners were not only encouraged by the proximity of Italy, but also the possibility of reaching the destination by car, without submitting to the constraints imposed by airlines. Mandatory double vaccinations, Green Pass and/or multiple negative Covid tests have been a major pain point for travelers.
(Source: Sojern)
These results, though positive, remain distant from 2019 figures. When comparing flight bookings to Italy in August 2021 versus August 2019, we detected a decrease of -46%.
2021 European tourism closes the distance to 2019 figures
At a European level, Southern European countries (Spain, France, Italy, Greece and Portugal) recorded a strong increase in flight bookings, especially starting from June, for stays between July and August, drastically reducing the gap from 2019.
Greece is the only country that surpassed pre-Covid results, gaining an increase in bookings by + 11.7% compared to 2019.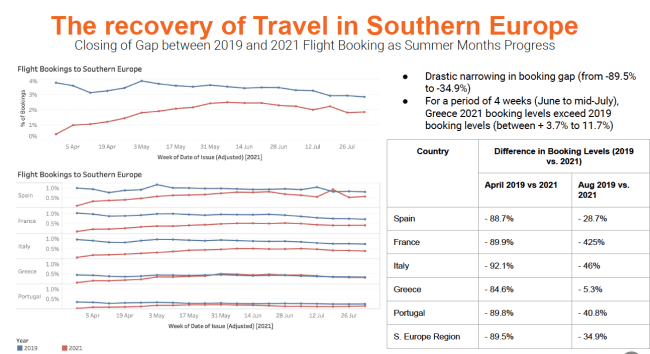 (Source: Sojern)
Sentiment Scores on the rise as travelers feel reassured by anti-Covid measures
Despite mandatory face masks and social distancing, Italy does not disappoint tourists' expectations. The Sentiment Score, a proprietary index created by Data Appeal that measures the level of satisfaction expressed online, reached a value of 89/100 this summer, higher than that of France (84.9 ) and Spain (87.7).
Our Covid Safety Index, a KPI that measures the effectiveness of anti-Covid measures and the trust expressed by visitors, records 73.5/100, while Greece, Spain and France sit at 65.9, 50.9 and 62.0 respectively.
Confirming that summer tourism has reached record numbers compared to the past 18 months, the Travel Barometer reveals positive values when measuring the overall wellbeing of the tourism industry.
In Italy, the Travel Barometer records a score of 89.6/100, much higher than 2020's value of 71.2/100.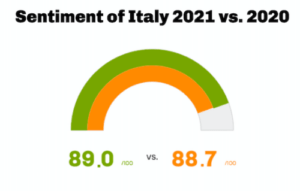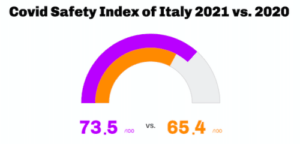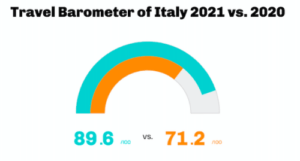 (Time Comparison: June – August 2021 vs. 2020 (orange values) – Source: D / AI Destinations)
Online content doubles in 2021, and food is the most popular topic
With travel picking up in 2021, there are more people at restaurants, museums and cultural attractions compared to last year. In fact, digital traces left online in the last three months have nearly doubled across Italian destinations. 
Among the insights that emerged from our analysis, there's one of particular interest. The majority of reviews, social posts and online content relates to restaurants, cafes and bars. In fact, visitors in Italy are most appreciative of the food and beverage industry, more than attractions and accommodations. Moreover, Italy is the most desired destination for foodies across Europe. 
The Italian Job
Let's explore some of the top Italian holiday destinations across the boot.
Tuscany
Over the past 3 months, 600,000 pieces of online content were recorded compared to 300,000 in the same period last year. Among this year's total, over 313,000 contents relate to the food & beverage sector.
Veneto
In the last 3 months, the contents published online amounted to 666,300, versus 344,800 in the same period last year. Over half – 375,000 – are about the F&B industry.
Rome, Lazio
413,600 contents were published over the last 3 months compared to 214,200 in the same period in 2020. About half – 206,000 – are linked to restaurants, bars and cafes.
Brindisi, Puglia
28,100 pieces of content were published in the last 3 months, while only 15,900 were published in the same period the year prior..
Amalfi Coast, Campania 
31,600 pieces of content were recorded over the past three months, while 17,400 were published in the same period the year before.
Foreign tourists on the rise compared to 2020
Of all the pieces of content published online across Italy, 68% are from the domestic market. In fact, the majority of Italians preferred to holiday at home this summer instead of facing the uncertainty that comes with a trip abroad.
However, content from foreigners is on the rise, passing from 23% in 2020 to 31.8% for the first half of 2021. The majority comes from the German market (8%) and is followed by the French (4%).
(Typology and Source Market of Travelers in Italy – Source: D / AI Destinations)
Tourism Forecast: A decline is approaching, yet demand remains strong
As we enter September, bookings begin to decline. and drop below pre-Covid levels of 2019: Italy -57%, Spain -32%, Greece-28%, Portugal -62% and France -64%.
(Source: Sojern)
When compared to 2020; however, the outlook is much more positive. Our data reports increases in both the saturation and average price of hotel rooms across major OTAs.
September forecasts reveal positive figures when compared to the same period in 2020: 25% vs. 13% of saturation of accommodation properties and € 116 vs. to € 107 for the average price of hotel rooms respectively.
Conclusion: Volume is less than half of 2019, yet demand remains positive for the upcoming autumn season.
"Although the signs of recovery are good, the overall volumes are still less than half of 2019 because the long range is still almost completely missing", shares Mirko Lalli, CEO & Founder of The Data Appeal Company. 
"There are still many uncertainties for autumn and winter, mainly due to last-minute bookings.
Reputation and the perception of safety are fundamental in choosing a destination. If local establishments and venues continue to encourage Covid containment measures, in particular the vaccination campaign and successfully implementing the Green Pass, Italian tourism will certainly benefit. It's essential that Italy, and all tourism destinations, are perceived that they are safe and open to tourism.
Greater security and the easing of some restrictions, such as the elimination of mandatory quarantines, supports tourism demand in September and October, unlike last year where there was a sharp collapse after August."
Valentina Lazarov, Sales Director, Destinations at Sojern, shares: "It's definitely been a strong summer for many European destinations, and that just shows that travel will come back. However, the autumn period is coming up next and we need to keep working towards a safe recovery together as an industry.  It's an opportunity for all destinations, but especially those who have not been able to benefit so greatly from the summer season, to keep inspiring and reminding travellers the beauty of what they have to offer."
Subscribe to our newsletter and download the free report: