The Covid-19 Crisis:
Between Concern and Gratitute – How Italians are Reacting Online

Concern, anger, sadness, gratitude, fear… The ongoing Covid-19 emergency has uncovered a real Pandora's Box of emotions online.
With the entire Italian population on forced lockdown for over a month (and counting), social media has become the main outlet for them to express their emotions – from outbursts of frustration to testimonials of pride and appreciation.
To understand the extent of reactions about the coronavirus on social media, The Data Appeal Company collected and analyzed a sample of 23,000 posts published by over 13 thousand unique users during the entire month of March on the major social networks.
Download the complete analysis below to discover the latest insights. Here's a quick look at what our data analysts uncovered:
The Most Discussed Topics Online
The conversations and posts from Italians on social networks mainly revolve around the healthcare system, government measures, the spread of the contagion and the day-to-day difficulties they face.
Inside thousands of online conversations, the most common topics and keywords that emerged include: life in quarantine, common sense of citizens, precautions against the virus and the most affected geographic areas of Italy.
The overall sentiment associated with these topics is negative in 70% of the posts analysed, a sign that the majority of Italians are not only frustrated with the government and healthcare system, but criticize the the nonchalant behavior of their fellow citizens. In fact, the sentiment discussing 'precautions' is negative in 85% of the content recorded.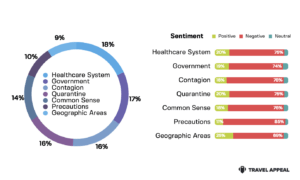 Social Listening: How Topics Change Over Time
When comparing the conversations between February and March, the one topic that did not fluctuate is the issue of the healthcare system, the center of attention for the majority of online posts.
The topics that gained momentum throughout March relate to the government, quarantine, common sense of Italian citizens and precautions to slow the epidemic. Geographic areas and the coronavirus itself were discussed less in March than in February.

This Data Appeal Analysis also includes:
Daily trends of social issues
The most common words/phrases used to discuss the ongoing crisis
In-depth sentiment analysis on which user emotions have emerged based on the semantically-analyzed content
The top hashtags used and the users most frequently mentioned throughout comments and online content relating to the Covid-19 emergency
Complete the form below to download your free Analysis on Covid-19 Social Listening in Italy.