Customer Experience Data is a game changer to provide your clients with extra value and to differentiate your business.Providing added value to your clients and discovering new markets are the two most important and common non-monetary goals for businesses across a variety of industries. No one understands this as well as The Data Appeal Company, whose mission is to empower businesses to better understand their customers, competitors and territory with a data-driven approach.For ISVs (Independent Software Vendor) and Service Providers alike, the desire to achieve these objectives has grown exponentially as service providers have become a dime a dozen in today's society. Many are asking how can we transform our service from commodity to necessity? In short, provide something extra. Customers love to feel appreciated, and by going above and beyond, you can exceed their expectations and ensure their retention.
1. Invaluable customer insights, at your fingertips
Global service provider, SO Connect, was looking to offer something extra to their clientele, setting themselves apart while expanding their range of customers in new markets. Their goal was to become a reference point throughout international markets for the management of hotel and retail WiFi connections.Knowing that all businesses desire more accurate insights about their customer's behaviors, experience and their overall performance, So Connect decided to integrate our semantically-analyzed data coming from online feedback and reviews into their product. Their clientele is now able to uncover customer problems and complaints – in real time – related to internet connections and any other aspect of the customer experience.So Connect clients have seamlessly embedded our whitelabel dashboard with the most important KPIs at their fingertips to keep an eye on and respond to customer reviews and feedback, satisfaction, spending behaviors, the impact of Covid-19 on a business or territory and more.By copying and pasting a snippet of code or through a seamless API integration, we provide exclusive, data-driven insights to all of their customers.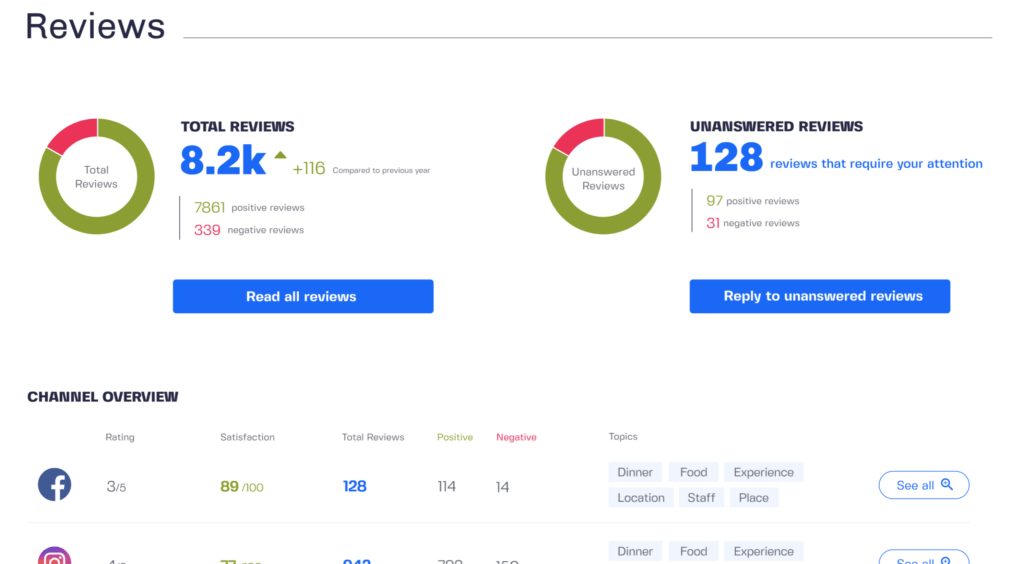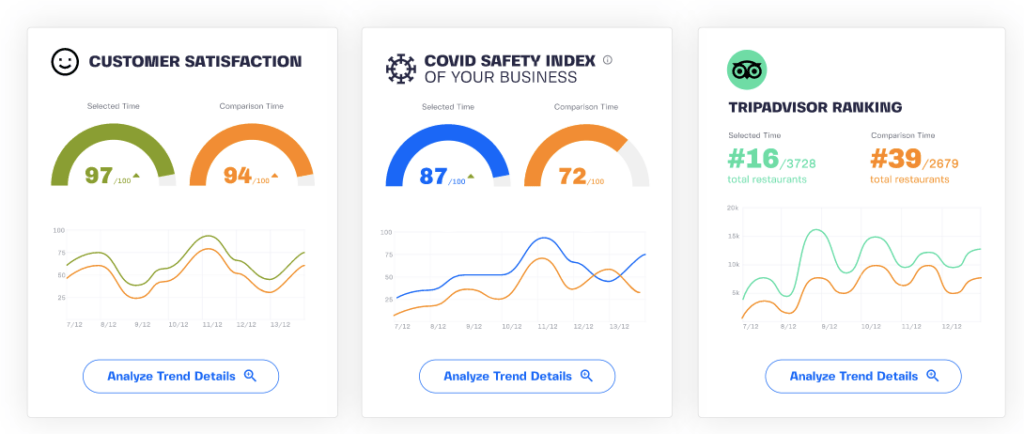 2. Drive business growth and revenues
So Connect, like our other service provider clients, have not only seen the qualitative benefits of integrating data-driven insights to their customers, but quantitative as well.In only 8 months, one of our clients went from providing their internet marketing service to just over 800 businesses to over 12,000. Another customer recorded a 400% increase in their number of clients in over just two years, largely because they added the review management and listing management services to their arsenal.
Data can also be leveraged to seamlessly qualify leads and find more clients. With our Location Intelligence, we profile and compile targeted businesses and industries based on the criteria of your choosing (recently opened, international customers, most reviewed, highest sentiment scores, etc…). This enables businesses to identify and target the most strategic businesses, locations and market opportunities to drive growth. One of our customers provided their services mainly to hotels, retail shops and restaurants. They were looking to expand their service to include gyms and spas. With this in mind, we pinpointed the gyms and spas with the highest ratings and customer sentiment to enhance their prospect and lead generation strategies.
We enable businesses to identify and target the most strategic businesses, locations and market opportunities to drive growth
Data Appeal is Designed for Service Providers and ISVs
93% of customers choose a business based on their online reviews. We help your customers increase their customer sentiment scores, improve their ranking, respond to reviews directly, categorize reviews and social posts, monitor competitors, gain insights and a whole lot more.The benefits of deeply understanding how a business is perceived impacts each aspect of the product and service. At the customer level, knowing your strengths and weaknesses in the eyes of your customers is fundamental to improve their experience and the overall purchase process, as well as to increase their satisfaction at each touchpoint to consequently boost the brand value. Providing a positive and memorable customer experience is what sets a business apart from its competitors.Having comprehensive, up-to-date and accurate business intelligence data, combined with customer and competitor behaviors for any global market is essential for any business operating within the ISV sector.Data Appeal offers the largest source of experience data and location intelligence. Leverage our data lake to obtain information, analysis and insights about points of interest, markets, and territories.Leverage our exclusive data and insights to forecast market evolution and uncover your competitive advantage.
Contact our Partnership Team today for more information.