Which are the best beer cities across Europe? Where can beer lovers find the top bars to enjoy craft beers and discover local brands they've never tried before?
By leveraging its Location & Market Intelligence solutions, The Data Appeal Company took an in-depth look at two of the most renowned beer cities in the world: Amsterdam and Brussels. We also examined the food and beverage industry overall to measure how bars, pubs and breweries are perceived by customers in both cities.
Leveraging data-driven insights to pinpoint the best beer cities
The so-called Craft Beer Tourism, or beer-centric holidays, has grown exponentially in recent years. Beer lovers are centering their vacations around visiting their favorite breweries, bars and pubs as well as beer festivals and tasting events.
In 2016, a Travelocity survey of 1,003 Americans revealed that an impressive three-quarters of the respondents wanted to take a trip to visit craft breweries and sample local beer. In fact, Travelocity established its own Beer Tourism Index in the US.
We turned our focus to Europe to uncover the best beer cities. It came as no surprise that beer is celebrated in Amsterdam (Netherlands) and Brussels (Belgium) just as much as the Rijksmuseum and Grand Place.
To determine which of these destinations is the most popular for a beer escape, The Data Appeal Company fully mapped both cities to understand the distribution of points of interest (POIs) and specifically beer-related businesses (breweries, bars, pubs, gastropubs, etc.). To analyze the quality and reputation of these venues, we evaluated the online reputation and sentiment by leveraging Location Intelligence and Data Enrichment.
Which city offers the widest selection of bars, pubs and breweries?
The first step in evaluating the best beer city is to calculate the exact number of bars, breweries and pubs available in both Amsterdam and Brussels.
After tapping into our data lake, we found that, inside its Ring A10, Amsterdam contains 6,212 food and beverage-related Points of Interest (i.e. restaurants, pizzerias, pubs, bars, etc.). Of these, 402 are listed as bars while 96 are pubs and gastropubs and 55 are breweries.
The city center of Brussels strongly outnumbers both Amsterdam for total food and beverage establishments (9,631) and bars (767). Pubs and gastropubs instead, are just the same: 96, while we detect 60 breweries.
However, when looking at the number of online content and reviews, both published by locals and visitors, the scenario is completely reversed. The Data Appeal Company detected over 204,948 reviews related to pubs and breweries in Amsterdam while only 138,739 reviews in Brussels.
Breweries in Amsterdam look quite popular, as they account for 16,793 reviews, almost twice as many reviews written about those in Brussels.
Where can you find the most popular bars?
Numbers are important, but reputation is even more crucial. Travelers looking for quality over quantity should take into consideration the general reputation and perceived value of the overall food and beverage sector as well as that of individual bars and pubs.
To measure the reputation of a business, sector or territory, Data Appeal has created a unique KPI called the Sentiment Score, a proprietary index developed by our data scientists which measures the level of overall customer and visitor satisfaction.
In granular detail, the Sentiment Score defines the real customer perception; the higher the Sentiment, the more positive the experience.
When digging into the Sentiment of our two beer cities, the Food & Beverage sector of both Amsterdam and Brussels in the last 12 months recorded an excellent result; however, the Sentiment in Amsterdam is slightly higher: 85.9/100 versus 85.3/100.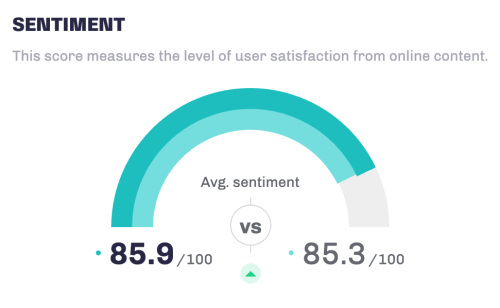 Deep diving into the data, we detect that the gap is the same for bars: Amsterdam wins the comparison with a Sentiment Score of 86.8/100 vs. 86.5/100.
When turning the focus on pubs, Amsterdam again achieves an impressive Sentiment Score of 89.3/100, 1.5 points higher than Brussels (87.8/100).

Beer lovers share their opinions about ales, stouts, lagers and more
To uncover exactly what beer lovers think about cold brews, we dug into our semantic analysis and put the magnifying glass over all the online reviews, ratings and social posts published in the last 12 months. By collecting this customer-feedback data about each venue from over 130 various online channels, we extracted and evaluated customer opinions about beer and similar drinks in Amsterdam and Brussels.
Reviews in Amsterdam related to F&B reveal that "Drink" and "Beer" are the third and fourth most discussed topics. Beer itself records a very high Sentiment Score, just behind Coffee, as evidenced below.
On the other hand, the keywords "Drink" and "Beer" do not even feature in the top 5 topics across reviews in Brussels. The Sentiment is also lower: "Drink" scores a Sentiment of 82.7/100 in Brussels.
"Beer" in Brussels, by contrast, records a very good sentiment (89.2/100), yet nearly 2 points lower than in Amsterdam.
Beer enthusiasts are satisfied with both Amsterdam and Brussels; however, the data reveals that the quality and experience of enjoying a beer is better in Amsterdam.
Let's enjoy the best beer in town!
To uncover exactly what beer lovers think about cold brews, we dug into our semantic analysis and put the magnifying glass over all the online reviews.
According to our analysis, even though beer enthusiasts are pleased with beer in both Amsterdam and Brussels, Amsterdam, in the last 12 months, recorded a higher performance across three major aspects:
Number of online content (reviews, ratings, etc.) relating to the food and beverage industry
Overall Sentiment of F&B, bars and pubs
Overall Sentiment about the keywords Drink and Beer
So, if you're heading to Amsterdam to experience craft beers and quality venues, we pinpointed the top 5 Amsterdam pubs based on number of reviews (min. 100) and Sentiment (over 90/100).
For each establishment, we also tracked the Popularity Index, a KPI that measures the popularity of any place and the frequency distribution of customers. Check out the top places below:
Proeflokaal Arendsnest (Sentiment: 94.93/100 – Popularity: 93.21)
A favorite spot for beer lovers; they serve only Dutch beers What people say: "good draft beers" – "great beer cheese" – "good selection of local beers" – "recommended good beer" – "the place to drink local dutch crafts" – "one of the best breweries in Amsterdam"
Molly Malone's Irish Pub (Sentiment: 94.64/100 – Popularity: 85.51)It may seem ironic that someone in the Netherlands would be interested in Irish beer, but in this beer capital of the world, any kind of beer is welcomeWhat people say: "They gave me the best chances to try some of their special beers" – "Great selection of beers and whiskey."
Café Checkpoint Charlie – (92.6/100 – Popularity 96.04)
The gateway to West and Westerpark, at a collision point where De Jordaan, the Center and the Westerpark area meet.What people say: "I do love this place! The staff, the people, the beers, the food" – "A delicious selection of beers and wines and a dedication to the true 'Old style' individuality"
Brouwerij de Prael (Sentiment 91.7/100 – Popularity 97.6)
They combine their own beers with the delicious, local food – a place for beer lovers and foodies alike.What people say: "If you are undecided on what beer to get they also offer a tasting of 4/5 beers at the same time" – "Fresh beers and large assortment by taste and strength"
Excalibur Café (Sentiment 91.7/100 – Popularity 99.7)
Rock and metal music accompanied by an impressive selection of beers.What people say: "Excellent music and the decoration of the place and its vibe were incredible! Also enjoyed the selection of beers a lot!"
Sentiment Analysis and Location Intelligence: A powerful combination for businesses, brands and territories alike
The Best Beer Cities research conducted by The Data Appeal Company was developed by collecting, analyzing, and interpreting thousands of pieces of information from over 130 online sources.
Our spatial analyses include an in-depth snapshot of each Point of Interest (in this case pubs, bars, breweries and restaurants) in the desired territory, both quantitatively (address, contact info, services provided, price level, type of cuisine, etc.) and qualitatively (overall Sentiment Score, Sentiment Score by topic, Popularity, etc.).
This type of analysis is extremely effective for the Food & Beverage, Retail and Consumer Goods industries. By leveraging our Location Intelligence, you can:
Analyze the places with the highest investment potential for effective site and distributor selection
Seamlessly qualify leads by accessing the POI address and contact information
Evaluate current product coverage compared against competitors
Identify the best areas for outdoor advertising or out-of-home marketing campaigns and events
Identify strategic partners for market activation – organize product launches and engage your target audience