L'analisi realizzata da The Data Appeal Company per una Pay TV internazionale, mostra come sfruttare un approccio data-driven per ottenere in tempi brevi un'analisi accurata della diffusione del servizio nei locali pubblici e la sua percezione da parte dei clienti.
Conoscere la qualità percepita reale di un prodotto o di un servizio da parte dei clienti oggi è un asset chiave per qualsiasi azienda.
I benefici che ne derivano sono molteplici e incidono su ogni ambito del business.
Nel caso di un'azienda di premium entertainment come una Pay TV, sia B2C che B2B, è fondamentale conoscere in modo dettagliato la diffusione e la qualità percepita del servizio fornito non solo ai privati, ma anche a esercizi pubblici su tutto il territorio (hotel, bar, ristoranti).

Questo tipo di analisi permette di raggiungere un duplice obiettivo:
Capire come offrire un servizio sempre coerente e all'altezza delle aspettative del cliente finale, anche quando si rivolge al mercato B2B.
Definire le linee guida dei futuri investimenti e targettizzare in modo più efficace la rete B2B a cui rivolgersi.

The Data Appeal Company ha realizzato un esclusivo white paper dedicato al processo, alle metodologie e agli strumenti tecnici utilizzati per realizzare questo tipo di analisi.
Se desideri approfondire il modo in cui gli algoritmi di intelligenza artificiale possano essere di supporto al settore del premium entertainment, scarica gratuitamente il nostro white paper.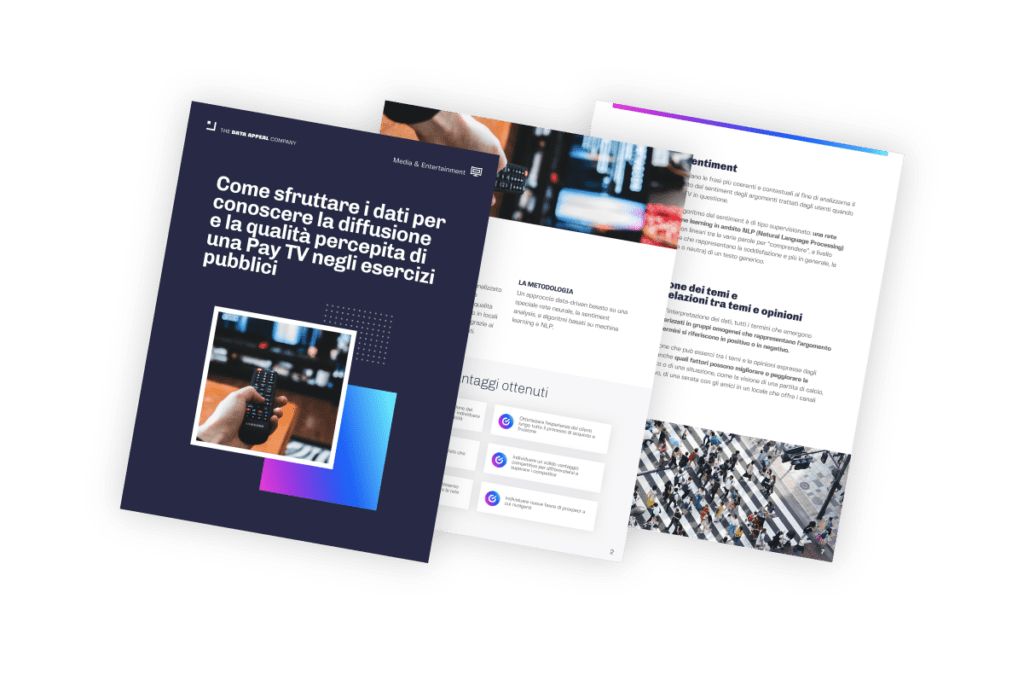 Compila il modulo per scaricare il white paper completo: